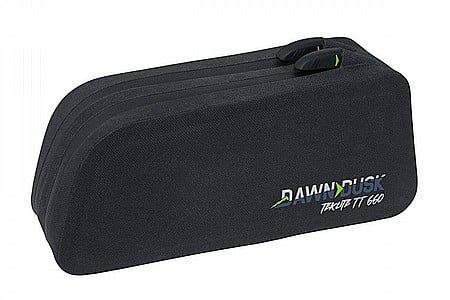 1 of 1 customers found this review helpful.
Favorite bolt-on bag
I have the large and smaller size and have debated buying more.
These bags are aesthetically clean looking, the zipper garage keeps it from bouncing around, and the bag itself has great rigidity for something frame-less.
I use the larger bag on my top type for mixed-surface riding. It easily holds my Pixel 5, wallet, small snacks. I NEVER hear the zippers make noise despite technical descents.
I use the smaller bag in a bottle cage spot on my 29er and am always getting compliments on it. Again no rattling zipper, keeps my tools clean and frameless construction is sturdy. I keep a tubeless plugger, 12oz CO2, and crank bros multi tool in it.
My only design recommendation is to add a bit of extra material to the ends that way when it's mounted on the top tup, any rubbing your stem does on it won't eventually wear through it.
Thank you for your feedback.
1 of 1 customers found this review helpful.
Perfect
Exactly the right width for my salsa warbird 61 cm. I did remove the middle divider to make room for my work id, ray ban aviators, wallet , keys , cliff bar, air pod pros, and kn95 mask. Bumps my awkward big thighs a bit but they also touch the frame and brake cables at times too.
Thank you for your feedback.
10 of 10 customers found this review helpful.
Great features, amazing value
I was in the market for a bolt-on top tube bag that would mount securely, be easy to open/close, and be the Goldilocks of sizing - not too large as to get in the way while pedaling and not so small that it couldn't hold my phone, wallet, and some granola bars. This bag checked every box and was priced a little lower than several other bags I tried and subsequently returned. Bolts and straps are included with the bag so you could go either way and it mounts securely enough with the bolts that I didn't bother with the steer tube strap. I was skeptical at first since I'd never heard of Dawn to Dusk but I called their customer service to ask some questions about sizing before ordering and they answered every question I had and were friendly and generous with their time. Great product and fantastic people available if you have questions.
Thank you for your feedback.