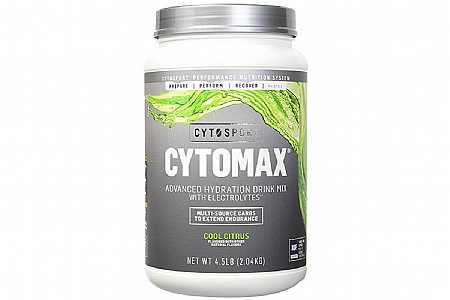 Cycling Enthusiast
Akron, Ohio
Cycling Enthusiast
South Carolina
My preferred electrolyte
I've had LOTS of issues with leg cramps. I've tried lots of different products Gatorade, Powerade, Hammer, Ion-4, Skratch, E-fuel, E-gel, mustard, pickle juice, milk, chocolate milk. I started using Cytomax about 6 months ago. Muscle cramps aren't completely gone, but they are significantly reduced with Cytomax. I use it on every ride & hike. The cool citrus flavor is decent. It doesn't bother my stomach. The lactic acid buffer works a bit. Cost on this site is high.
Thank you for your feedback.
Casual Cyclist
Little Rock area, AR USA
1 of 8 customers found this review helpful.
Physiologically Impossible for This Product to Work as Advertised
Cytomax's patented alpha L-PolylactateTM buffers lactic acid production in your muscles, reducing the burn during intense training and minimizing post-exercise muscle soreness.
Dudes, really? The ol' lactic acid myth was busted more than a decade ago. All we have to decide now is whether the Cytomax folks are 12 years behind on their science, or that they know better and are just too cynical to care.
Here are 318,000 sources that know better httpsgoo.glzaN5f7
Thank you for your feedback.
Cycling Enthusiast
Midwest
Cycling Enthusiast
Portland, OR
1 of 1 customers found this review helpful.
Tasty enough.
I use Cytomax on weekend rides 30-100 miles. A little chalky, but maybe I don't have the mix just right. I seems to work fine for providing hydration & some carbs. More substantial than the NuuN I was previously using
Thank you for your feedback.
Cycling Enthusiast
Nashville, TN
Competitive Racer
Central, AL
Cycling Enthusiast
Beaverton, OR