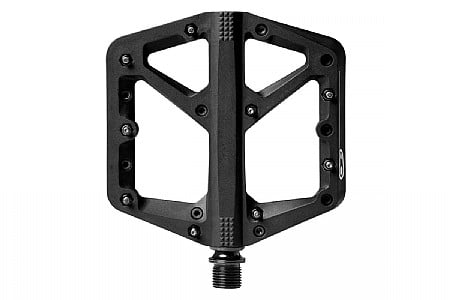 1 of 1 customers found this review helpful.
Great Pedals
Perfect for a first pair of flat pedals. Large enough to use with regular shoes but stiffer soled shoes like FiveTen are even better. The pins are long enough for good grip without shredding skin if they hit your calf.
Thank you for your feedback.
Daily Commuter
Milwaukee, WI
Grippy, lightweight, solid.
I recently had to convert a racey Frankenstein bike to a more dad-oriented cruiser. After mounting a Thule Ridealong Mini to the stem, the clipless Candy 1 pedals began to feel a little unsafe. The Stamp 1 is grippy enough for me, lightweight, spacious, and much safer with the passenger riding up front. Flat pedals still don't have the same comfort as clipless, if I'm riding solo, but if you gotta ride flats, these are solid and thank goodness affordable.
Thank you for your feedback.
Competitive Racer
So Cal, CA
Great low-cost flat pedal
Crank Brothers really came through with this lower-cost pedal. I got them for my wife to boost her confidence on techy sections (she was on SPDs). The pedals are light and the platform size recos were right on (she got the small). They're paired with 510 freeriders which grab the pins well. Nice pedals at a good price.
Thank you for your feedback.
Cycling Enthusiast
SW Ohio
love these pedals
at first I thought it was idiotic to spend $40 on pedals, but after putting a couple thousand miles on them with my gravel bike I can appreciate the subtle differences that make them worthwhile. I really like how thin they are, the smaller model is perfect for my size 10 shoes and the adjustable grips and wonderful. And these are just the low end of the Crank Brothers lineup.
Thank you for your feedback.