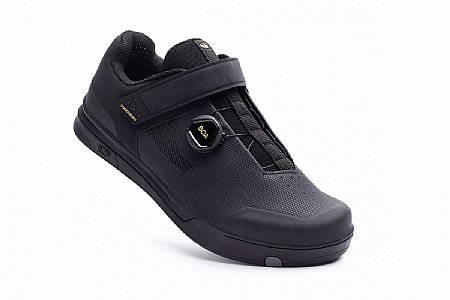 User submitted reviews
Review by Anonymous

Cycling Enthusiast

Long Island, NY

Excellent shoe with great build quality, but a bit too warm on feet and sizes are running small

Top notch build quality and excellent to be used for hiking in the trail. Very easy to secure with the BOA system. Only issues, the sizes are running at least one size too small, I got an 11 for my size 10 feet and it is still a bit tight but as I am using it longer, it is feeling more comfortable. Also, the shoes do not have much ventilation and can become a bit warm in hot weather, but I am sure it can help in cold weather biking. All together, a very nice buy.

Thank you for your feedback.
Review by Jon G

Great shoe!

Snug, but positive fitting/pedal engaging show. Mates absolutely perfect with Mallet pedals with no cleat break in period like always had to do with other shoes snd CB pedals. Stiff enough to pedal fairly efficiently with high comfort walking around when off bike. Boa is the way go for ultimate adjustment. Like better than speed lace since no extra lacing to tuck away. Only dis is solid black in color that may get warm on hot days. Ventilation isn�t bad though, just wear good, breathable socks helps.

Thank you for your feedback.
Review by MV

Cycling Enthusiast

Cashmere, WA

Best Mountain Bike Shoe Ever

I'm an avid mountain and road bike rider. I've been riding SIDIs for 20+ years, and these blow them away.

Boa is better than straps or laces. Outsole makes it easier to get into the pedals.

Thank you for your feedback.