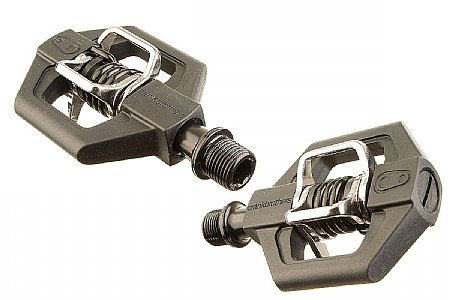 3 of 3 customers found this review helpful.
Light and inexpensive.
It is easy to just replace these these pedals every two years or so then to rebuild a higher end product. I replaced the spindles with after market ti spindles and they end up lighter than a pedal that costs 6 times as much. When they start to get worn I just swap the spindles into a new pair.
Thank you for your feedback.
Cycling Enthusiast
Central Washington State
Great Pedals
Crank Bros pedals are sweet right out of the box. There is no break in period, they have a smooth entry and release. Great for someone just getting into the clipless scene, or for veteran riders too. Plus the bonus of different colored pedal bodies to add style to your machine.
Thank you for your feedback.
Competitive Racer
Albuquerque
Cycling Enthusiast
Full time traveler
Cycling Enthusiast
Portland Area
2 of 2 customers found this review helpful.
Safest Pedal I have Used!
I have Candy 1 and MTNB-style shoes, and there is no concern with positively engaging the cleat while starting on a hill on wet streets in downtown Portland.
As much I like the light weight and wider cleat with roadbike-style shoes and my Lool Keo Classics, engaging the cleat requires planning, or you are guaranteed a slip, a bruise and possibly worse.
Thank you for your feedback.
Competitive Racer
Ellicott City, MD
Competitive Racer
Cordova, TN