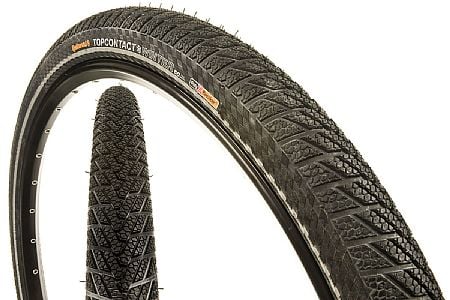 best studless snowtire
I got these for a winter commuting bike. I live in Wenatchee where roads and trails ice up and are often covered in snow over winter months. I wanted a tire that would grip good on ice, ride confidently over snow, and be comfortable and fast on dry or wet pavement, so I did not want studded tires. These are the best snow tires I have ever had, and they also provide very good off-road traction for trail riding. The microsiping is grippy on even glare ice, the tread pattern sheds snow and mud effectively, and the ride is a quiet hum on dry pavement. They provide a solid, confident feel in all weather conditions.
Thank you for your feedback.
11 of 11 customers found this review helpful.
Good for light snow, bare roads, horrible on ice.
These tires roll incredibly well, much much better than my Schwalbe Marathon Winter tires. The Top Contact Winter II work better than my studded tires on bare pavement (obviously), and they do remarkably well on light snow/slush.
On actual ice, these tires do horrible. ZERO noticeable improvement over my summer slicks. My Marathon Winter do much better on ice, but they also have hundreds of carbide-tipped spikes to grab into the ice.
On deep snow these work no better than the Marathon Winters, which work no better than any other tire. Once the snow is deep enough that your tires are only making contact with snow and no longer making contact with the road below, no tire provides any real traction, and anything outside a 'floaty' fatbike tire is going to be very difficult to ride.
These tires do seem to handle cold better than most, staying supple at lower temps than some other tire I ride.
Overall a very good tire, but if you plan on riding on ice frequently, get a set of studded tires instead. If you're like me, and end up having a week or two every winter where everything is iced up, but the rest of the winter it's clear, do what I do get both. I ride these most days and when things get icy, I swap wheelsets to the ones with my studded tires.
Thank you for your feedback.
Casual Cyclist
Pittsburgh PA
3 of 5 customers found this review helpful.
Probably wouldn't be riding much without these.
I had wanted these tires for a while. I am REALLY afraid of falling on my bike, and I live in the north. My knee is badly damaged, and sliding and falling on ice scares me. They're everything I expected, and I don't think I would be riding around here in the winter without them. And Bike Tires Direct was the only place I could afford them. Don't hesitate!
Thank you for your feedback.
Cycling Enthusiast
Coastal OC, CA
7 of 10 customers found this review helpful.
All conditions tire
The Winter II looked like it might be a good replacement for the NLA Conti Top Touring 2000. It is! The application A rigid steel frame with mountain bike wheels and drivetrain. With a road handlebar and cyclocross-style brake setup the bike sees regular use on- and off-pavement. At 44mm width on a Mavic x517 rim, the (nominal) 50-559 Winter II is the same width as the (nominal) 47-559 Top Touring 2000. Several hundred miles of SoCal hot weather use has not revealed any problems. The Winter II when used front and rear is fast, grips well when cornering aggressively on pavement, and is forgiving when pushed to the limit. On fire road and singletrack, the tread pattern is surprisingly good at finding traction in the usual grit-on-hardpack SoCal dirt. The sipes create the equivalent of micro-knobs, and the dual-angle chevron void areas contribute to behavior somewhat like conventional knobs.
Bonus review When paired with a (nominal) 50-559 Cruise Contact on the rear, overall performance on pavement is even better. The Cruise Contact measures 48mm on a Mavic x517 rim, and when mounted opposite of the intended direction of rotation results in almost magical handling. When cornering at the limit of traction on pavement, the two tires carve beautifully, with gradual breakaway and recovery. Cornering on dirt is not quite as impressive, but the Winter II F & Cruise Contact R combo are certainly competent, which also applies to climbing, descending and braking. In each case, the buyer is quite pleased with the product.
Thank you for your feedback.
Cycling Enthusiast
Fort Collins, CO