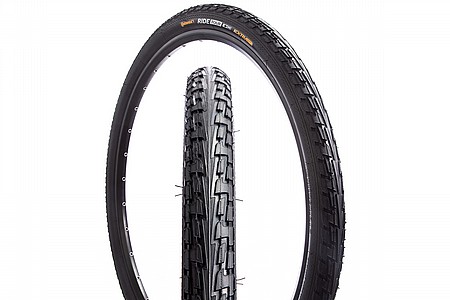 Cycling Enthusiast
San Carlos
2 of 3 customers found this review helpful.
Great Tire
The plushness of a tire is largely affected by pressure and in my experience most people over inflate there tires. These tires have a great ride quality for me. I weigh 150 pounds and inflate them to 30 psi based on the gauge on my planet bike flour pump. I've never had a pinch flat and I've hit some deep pot holes going at a good clip.These tires handle mud quite well as well as a smooth ride on pavement. I've had grand bios's Hertre on my bike and to me the Hertre were only slighly cushier. For me its a toss up between the two so I pick these because they are so much cheaper and they look good too.
Thank you for your feedback.
Cycling Enthusiast
San Francisco
This is a great tire that has a very supple ride even at higher pressures.
I use this tire on fire trails, road, gravel and it does surprisingly well in mud!. I think its the best kept secret in tires. I've had Reneherse tires and I think this rides just as good. It mounted well. No lumps or bumps. I'm thrilled
Thank you for your feedback.
Cycling Enthusiast
MIDWEST
4 of 5 customers found this review helpful.
PLUSH RIDE,GREAT VALUE
I just recently installed these on some 650b rims I had and put them on a Motobecane ALU disc cross bike I have replacing a 700 rim with Schwalbe 28mm. Wow, what a difference in ride quality. Sure, they're fatties but I'm comparing them with Soma B line 650bs, a set of Pari-Moto's that were super plush but got punctured on the first ride because they are so shear and Schwalbe Big Bens. I like the overall feel, and think they roll just as fast as the other more expensive tires. I also have a set of the 50s on my Extracycle, and like the way they roll on it. Continental definitely has a winner with this tire
Thank you for your feedback.
Cycling Enthusiast
Heber UT
4 of 6 customers found this review helpful.
Killer deal
Ordered these the other day as winter is coming and the days on the mountains are getting limited. Got these so as to avoid chewing up my Racing Ralph's on the road. Figured I can get a lot of days between now and Nov. 22nd or so to get the legs ready for some downhill skiing. Put these on my 2013 Jamis Dakar XCT.
Thank you for your feedback.
13 of 15 customers found this review helpful.
For Urban conditions - not an event tire
I used it for about a month and then went back to Grand Bois, much more supple tire, did not get any flats on this one, but thanks to its hard casing, its not a supple ride.
Tradeoffs, if you are looking for a solid tire that gets few flats and is ridden in rough city conditions, this is a good choice.
Thank you for your feedback.
Just what i was hoping for, smoother on concrete with a firm feel
Bike came with WTB Resolute tires which soaked up bumps with the paper thin sidewalls, knobs were wearing fast on pavement and had a resonating vibration that amplified through the spokes and plastic guard at cassette.
The Tour rides are a little thicker sidewalls and tread, center makes for faster rolling as advertised. 650bx42c tour ride tires make the Cannondale Slate SE greater on the road with slight loss on the trail obviously because its not a true knobby, spins about the same going up steep gravel hills. I haven't personally noticed a reduction in performance on the trails that I have rode, corners great, good on wet pavement, Definitely will last longer than the WTB Resolute tires. Best all around tire for the money!
Thank you for your feedback.