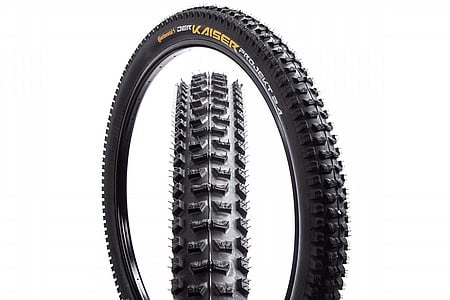 Cycling Enthusiast
Pine, AZ
1 of 1 customers found this review helpful.
The best front tire for Ebike
My weight and that of my E bike is 290 + lbs. I built it for Mountainous terrain both paved and dirt. My usual circular route is 18.4 miles with 2100 ft. of vertical and 2100 ft. of descent. I have 12 grades of 11% to 16%. So downhill braking is a necessity as kissing an elk or deer is a daily risk. I use the Der Kaiser on my front( it will not fit on the back of my non-boost hard-tail). I never hesitate to brake using my front disc. Steering in any terrain never has failed me either and no flats. Despite my weight and constant braking after 1400 miles I estimate at least 60% of the tread remaining. I will never use another front tire. It is the ultimate in safety.
Thank you for your feedback.
Cycling Enthusiast
Eastern California
2 of 2 customers found this review helpful.
Divide Worthy
3000 miles on the Great Divide Route. Fully loaded. 1 flat (from a wire staple). Strong and reliable. Looks
like it could go another 1000 miles. Heavy duty with an emphasis on heavy.
Thank you for your feedback.