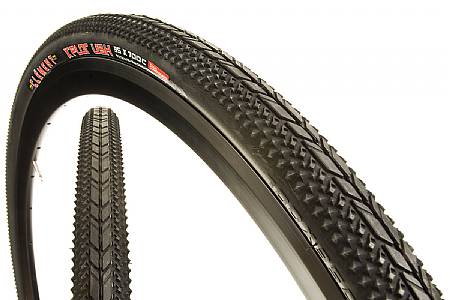 Cycling Enthusiast
Randolph County, WV
Perfect for dry loose gravel
I use my Clement X'Plor USH 120 TPI on Velocity Aileron (polished) rims and I ride around on abandoned timber roads throughout the Monongahela National Forest and the surrounding private dirt gravel roads in West Virginia.
My Clements (700C x 35mm) grip well on mainly dry dirt and loose small gravel. On crusher run gravel, the tires seem to grip well, even after a rain. On 1 rock, the tires also have good grip, no greater than about a 15% grade (which is insanely steep for a 700c wheel).
I haven't gotten a flat as of 250 miles of riding, and I feel that the tire material is strong to withstand small debris. I ride extra slow here in the mountains of WV, and usually traverse any thorny plants on my path.
Thank you for your feedback.
Cycling Enthusiast
Lawrence, KS
3 of 3 customers found this review helpful.
My Go-To Tire for Gravel
These were the tires that were on my gravel bike when I bought it used. After a year and a half on those tires, I decided to replace them with the same this past spring. I've been happy with them all around. The old ones got me through training and my first Dirty Kanza Half-Pint (100) in 2016. The previous owner had also trained and raced the 100 on them in 2015. I bought the replacements in preparation for the 200 at Dirty Kanza 2017. I was definitely overdue for replacement as they were showing noticeable wear, but feel like they had done very well in terms of how long they lasted .
The new ones worked beautifully in the mixed weather conditions that I encountered. During the first part of the day on the dry stuff, they were fast and reliable. I feel like they are great in terms of rolling resistance and being able to get some speed. But they also had good grip when the rain started coming down...and then kept coming down. The tires held up much better than I did that day. Will likely repurchase the same again when it comes time to replace.
Thank you for your feedback.
Competitive Racer
Bend, Oregon
Cycling Enthusiast
Amherst, MA
1 of 1 customers found this review helpful.
Great feel on the road, comfortable and good on trails.
Love the ease of getting this tire on the rim, and the immediate comfort feel of this on paved surfaces. Off road, seems sure footed and true on dirt, gravel, and rutted tire tracks.
Thank you for your feedback.
Cycling Enthusiast
Easton, Pennsylvania
16 of 16 customers found this review helpful.
The Clement X'Plor USH came stock on my Salsa Warbird Ti and wouldn't hesitate a second to buy another pair!
I mostly ride road and mixed terrain rides (including everything from paved road to gravel roadtrails and packed single track.) I also compete in long distance gravel races (DK 200) and Ironcross races in which they throw everything at you! This tire performs very well. The first thing I noticed when I rode on these tires was how fast and quiet they were on paved surfaces. That center ridge is the sweet spot! Then I hit gravel and they gripped on the corners and were rolling just as fast. Oh yeah, we've got a winner here! LOVE THEM!!! 1500 miles and still going!!!!
Thank you for your feedback.
Cycling Enthusiast
Chicagoland
10 of 15 customers found this review helpful.
Good but not perfect
Rode this tire last season as the rear on my multipurpose bike and it lasted about two months. The casing is a little fragile so riding over obstacles (curbs or rocks) busted something. The sidewalls were bulging and distorted in two places. When it was newer, I loved the feel on the road - the ride was supple and it rolled surprising well for a 35mm tire. As it wore a bit, it would start to slip when cornering on the packed fine gravel trails that are the bike paths here. Granted this was going fairly fast but that's my style.
Replaced it with Clement X'plor MSO (40mm) which has held up fine, does not roll as well on the road (its too spongy), and gives superior traction on the trail.
Would recommend this tire for the smooth ride and easy roll but watch the rough stuff so as not to destroy the casing.
Thank you for your feedback.
Cycling Enthusiast
Washington
9 of 9 customers found this review helpful.
Great adventure tire
I use this on my Trek Boone for rides where I'll be on pavement, gravel, and dirt. I wouldn't say it does any of those especially well, but it rolls pretty well on pavement, and has enough traction for packed dirt and some loose gravel. I've been riding it quite a bit this fall and haven't had any problems yet. It has also been holding up surprisingly well. I ended up buying a few more to keep around since it's such a good all arounder.
Thank you for your feedback.
Competitive Racer
Manhattan, KS
13 of 16 customers found this review helpful.
Great handling on gravel
I used this as my back tire for Dirty Kanza 2014, and I liked the traction and handling much better than previous tires I'd used that had less tread. It has just enough grip on the sides to keep you from sliding and bouncing around a lot in loose gravel, yet it was still very fast and light. I trained a lot on the Panaracer T-Serv Protex and really had trouble with steep loose sections, while the X'Plor USH barely slipped at all on these same sections. Overall the handling and design of the tire are fantastic.
I had no problems during the actual race, but went back the next weekend and re-rode the Texaco Hill section and the tire blew out and was ruined. I think it would work fine on normal gravel, but might be a little too light for the flint rocks on DK. In total, I got about 300 miles out of the tire before it blew out, so I'll probably go with something a bit heavier for the back for next year's race. It's also hard to pay more for a bike tire than for a car tire and only get 300 or so miles out of it, so thus the low value rating.
Thank you for your feedback.
Cycling Enthusiast
Southeast Ohio
14 of 14 customers found this review helpful.
The perfect gravelpavement tire
My enjoyment is a back country gravel/paved roads as found in southern Ohio and West Virginia. Cyclo-cross specific tires have faired poorly for me on paved roads especially with fast downhill sweepers. The X'plor 35mm. have incredible low rolling resistance offering great cornering confidence on pavement with more than enough traction and control on gravel and rough terrain at 70psi.. As already stated, I also wouldn't recommend them for single track, but fast downhills on gravel as well as pavement - perfect!
Thank you for your feedback.
Cycling Enthusiast
New York
13 of 13 customers found this review helpful.
Best tires I've ever owned
Strong enough to handle a 240lb guy and performs way above my expectations. It is amazing for everything including mountain biking. Dont believe me try it your self. I have it on a trek 8.3ds and I take my bike threw mud,large rocks and regular pavement.The people I ride with are amazed that their specialized tires don't perform as well as these do offroad. Worth every penny.
Thank you for your feedback.
Cycling Enthusiast
New York
13 of 15 customers found this review helpful.
Amazing performing tires thats worth every penny.
I love everything about this tire . I do mostly trail riding and on pavement. Its a great all around tire that will get you threw just about everything you throw at it. I wouldn't recommend it for mountain biking though.
Thank you for your feedback.
Cycling Enthusiast
Portland, OR
4 of 4 customers found this review helpful.
Bullet-proof but heavy
I got this tire for mostly gravel and for some road riding on a 'cross bike. I can bomb rocky descents with impunity; these things are tough. But that toughness comes with a weight penalty and they accelerate slowly. Once up to speed they roll well and are fairly quiet on pavement. Not a mud tire, but it'll get you through the occasional sections OK. If you're venturing out in remote areas this is a tire you don't have to worry about.
Thank you for your feedback.