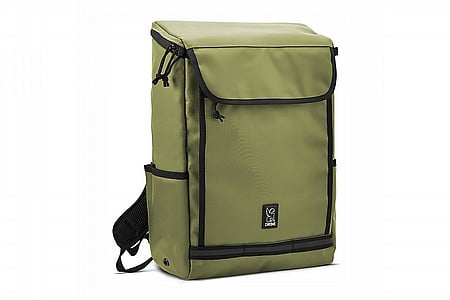 Daily Commuter
Los Angeles
GREAT FOR MY LIFESTYLE FILMMAKER, RESEARCHER, & TRAVELER
I'm a 5'5 Asian American woman who commutes to LA via the train (yes trains exist in SoCalLA) and my lifestyle is split between filmmaking, clinical & translational research, and traveling regularly. I needed a backpack where I could lug my 15 MacBook Pro (2015 yay!), iPad for animationgraphic designreadingstreaming the World Cup, camera(s), documents for work, notebook, 32 oz water bottle, food, wallet, etc... (pretty much EDC) and also not kill my back in the process, especially since I'm pretty much a GO GO GO type of person depending on what the day demands of me. I love the Volcan backpacks sturdy frame and its materials it feels extremely sturdy and there's ample room for organization. The main compartment is roomy, and even with my EDC I'm fairly confident I could stuff more things in there as needed (e.g. jacket, beer). The laptop sleeve is suspended from the ground! The hidden pockets on the back are really handy, though I would caution about putting anything too bulky in them (e.g. keys) since it may jut out into your back. However, I really love that there are two of these pockets, as I plan on using them to put important travel documents (e.g. passport) so that they stay safe. I also really love the double water bottleu-lock holders! I can easily place my 32 oz Hydroflask water bottle in there, which is great since I want to stay hydrated when I'm either running around towncitytrains or need to stay focused during hour of film editing and shooting sequences. I really love the mesh pocket at the top of the main compartment flap - its quick accessibility lets me put smaller EDC in there, like headphones, portable utensils, etc. The document flap at the front is really nice! I love how there's a tablet sleeve and 3 penspencils sections. The bag might be a little heavy, but I don't mind - it's comfortable to wear with the mesh back panel, and it keeps my equipment safe D
Thank you for your feedback.
Daily Commuter
Los Angeles
1 of 1 customers found this review helpful.
Great for my lifestyle Filmmaker, Researcher, & Traveler
I'm a 5'5 Asian American woman who commutes to LA via the train (yes trains exist in SoCalLA) and my lifestyle is split between filmmaking, clinical & translational research, and traveling regularly. I needed a backpack where I could lug my 15 MacBook Pro (2015 ftw), iPad for animationgraphic designreadingstreaming the World Cup, camera(s), documents for work, notebook, 32 oz water bottle, food, wallet, etc... (pretty much EDC) and also not kill my back in the process, especially since I'm pretty much a GO GO GO type of person depending on what the day demands of me.
I love the Volcan backpacks sturdy frame and its materials it feels extremely sturdy and there's ample room for organization. The main compartment is roomy, and even with my EDC I'm fairly confident I could stuff more things in there as needed (e.g. jacket, beer). The laptop sleeve is suspended from the ground!
The hidden pockets on the back are really handy, though I would caution about putting anything too bulky in them (e.g. keys) since it may jut out into your back. However, I really love that there are two of these pockets, as I plan on using them to put important travel documents (e.g. passport) so that they stay safe.
I also really love the double water bottleu-lock holders! I can easily place my 32 oz Hydroflask water bottle in there, which is great since I want to stay hydrated when I'm either running around towncitytrains or need to stay focused during hour of film editing and shooting sequences.
I really love the mesh pocket at the top of the main compartment flap - its quick accessibility lets me put smaller EDC in there, like headphones, portable utensils, etc.
The document flap at the front is really nice! I love how there's a tablet sleeve and 3 penspencils sections.
The bag might be a little heavy, but I don't mind - it's comfortable to wear with the mesh back panel, and it keeps my equipment safe D
Thank you for your feedback.