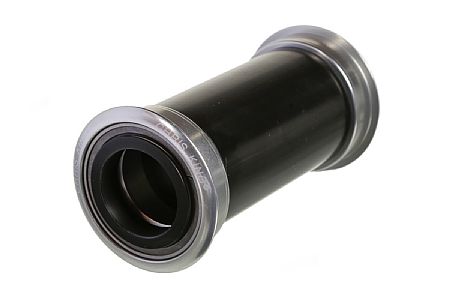 Competitive Racer
Minneapolis, MN
2 of 2 customers found this review helpful.
So pretty!
I tried a few bottom brackets on my cx bike (bb86) with varying levels of success. SRAM's bottom bracket would last 2-3 months (2,500 miles) and Wheels Mfg's thread together bottom bracket lasted a week (one wet ride and the bearings were toast). Chris King's bottom bracket caught my attention since they make it so easy to service the bearings. Now 6 months later it's still perfectly smooth despite rain, snow, ridiculous temperatures (-20F), etc and takes a whole 5 minutes to re-grease the bearings. OK maybe 10 minutes if the little plastic inserts don't come out right away. My non-scientific assessment says it also spins better than SRAM's bottom bracket and the Enduro bearings in the Wheels Mfg model (hard to tell with that one though since the bearings were gritty before the seals were even broken in).
I'm so pleased with this bottom bracket that I just ordered another for my fat bike.
I knocked off a star on the value rating because it's expensive by itself and then you probably need another kit depending on your crank choice, then the grease injector, special bearing press drifts, ...
Thank you for your feedback.
Cycling Enthusiast
Venice, CA
1 of 1 customers found this review helpful.
So far so good.
Hard to judge a bottom bracket that is working as designed . . . The Chris King is light, smooth and looks nice on my frame. The hub and headsets I have used for years worked flawlessly, at least up to a point. The flange on one of my CK front hubs (two of similar vintage are working fine) failed, but it was 20 years old. Expecting similar results with this bottom bracket. I designated myself a Cycling Enthusiast because I am a retired 64 year oid Cat-3, but I ride 150 miles per week, & on a good day I can still drop a few young club riders.
Thank you for your feedback.