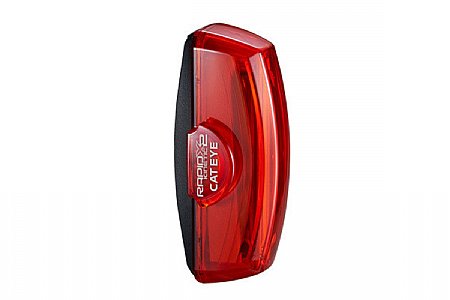 Cycling Enthusiast
Brenham, TX
1 of 1 customers found this review helpful.
Really good taillight for vsibility, disappointed with the variety of mounts included
Three types of light action plus the accelerometer that senses when slowing and changes the pattern to a full, bright red. Charges well, works well. My complaint is neither of the 2 included rubber anchors fit an aero seat post. When I contacted Cat Eye I was directed to purchase an accessory pack for the light. Are you kidding me? It is an easy fix I had some other stretch O-rings and used one of those, but with all the competition out there I cannot believe Cat Eye would not include an aero anchor (which is just an o-ring) or at least send you one when you inquire. A great light but a strange philosophy of customer service and satisfaction.
Thank you for your feedback.
Cycling Enthusiast
Brenham, TX
NIfty rear light that changes when you decelerate
I have used this several times. The light has very eye-catching modes from straight flash to strobe. When you decelerate the mode changes to a very bright, solid red. It does work. I notice I get a wider berth from vehicles when I am using versus not - it may must catch their attention a bit earlier. I now will not ride without a tail light given some serious collisions in our area due to inattentive motorists. The varying strobe setting is my favorite as I feel it is more what would catch a motorist's eye. If you have an aero seat post note that the unit does not come with a band that will fit your post. I found a larger o-ring wth some stretch that works. You can purchase an aero 'kit' for this unit that includes a different rubber mount. I found the one on the unit works, it just needs a bigger band. In this day and age of aero bikes I wonder why a company that produces such quality items would not include this, but there is a workaround if you don't want to pay the extra.
Thank you for your feedback.