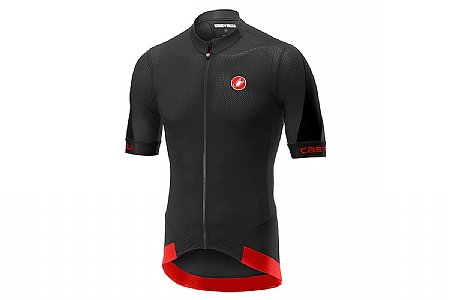 Cycling Enthusiast
Southern Ca
2 of 2 customers found this review helpful.
Pretty good jersey.
Typical Castilli race fit so order 1 or 2 sizes up. The sleeves are a little longer than I prefer and the band on the end is a little tight, and I don't have big arms by any means. Zipper moves pretty easily.
Thank you for your feedback.
Cycling Enthusiast
San Diego CA
Very comfortable jersey and beautiful design
I use this jersey for bike rides on 60 degrees F and above and feel very comfortable, the design and snug fit is beautiful. The only complaint I have is Castelli products vary in true sizes, some jerseys I fit in Med and some in Large for the same snug fit on my body that was why I have to return and exchange for another size, could be depend on where it made..?. Other than that Catelli always my number one choice for cycling clothes.
Thank you for your feedback.
Great jersey
i wouldnt call all castelli kit durable but this one fit the bill. Its held up really well and with 4000 plus miles on it, its still like new. Very comfy and looks good too. Im 180 lbs and XL is just right giving a good snug, comfortable sport fit.
Thank you for your feedback.
Cycling Enthusiast
Seattle, WA