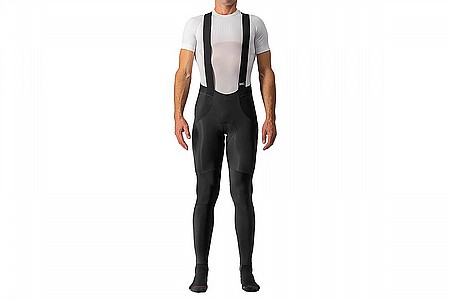 Good Kit
Caught these on a sale with a nice deal; I'm 72.5" tall, 32 waist, 40-42 shoulders, 32 inseam, 183 lbs. XL was way too tight, not enough room in legs or really anywhere else. (And BTD made the return/reorder super easy.) 2XL is a good fit for me. Freedom of movement without constraint is a hallmark of these bibs. Wondered about them not being real warm but they are pretty solid 3-season kit. I've worn down to the high 30sF and up to 50sF and they are warm enough in high 30s once I get rolling. (For low 30s or less, I'll break out the PI Elite winter bibs.) Also notable: suspenders are not stifling, and I am fairly long-waisted. Love the reflectivity on these Castellis, I don't know why every brand does not feature large strips on the back of your moving calves. Only neg is chamois butt'r will bleed through crotch (these are a tad tight there, my only fit gripe) if you have too much on I guess...but one can never have too much butt'r on! Recommended.
Thank you for your feedback.
Adds about 5 degrees to my ride!
Typical Castelli quality and fit I�ve grown very attached to. I have 2 sets of their bibs (rated 49-59 degrees) that I wear comfortably down to 43-45 degrees. The additional water repellent and wind resistance of these have given me a few more degrees of comfort. The pad is perfect for me, preferring the medium-firm feel. The fit is snug and helps prevent bunching in all the areas you never want on a long road or gravel ride. Pricey(?), but the quality, fit, and comfort make them a good value.
I�m 6�2�, 196 lbs, and wear an XL.
Thank you for your feedback.
Cycling Enthusiast
Dallas OR
2 of 2 customers found this review helpful.
Works Great
Castelli jackets and bib tights just work for me. These bib tights are extremelly warm and comfortable. With that being said I am 5'7" and weigh 150 lbs. So I wear a medium and they fit perfect. As all riders know, clothing is completely subjective, so take it for what it's worth. But I give these tights a big thumbs up.
Thank you for your feedback.
Cycling Enthusiast
Ashland, OR
2 of 2 customers found this review helpful.
Comfortable and warm!
I've been riding in this cold Oregon Winter and one of the things I love about these are the zippers around the ankles. I have a pair of Gore bib tights that I really like, but without those ankle zippers they are a pain to get off and on. The price was exceptional and these are very comfortable and keep me warm. I don't ride much below 40 F, just for reference.
Thank you for your feedback.
Cycling Enthusiast
Beaverton, OR
1 of 1 customers found this review helpful.
Not as warm as I wanted
These bibshorts have classic Castelli race fit, which means "not baggy." I'm 6' 2" 185 lbs and the XL size fits to a t. These are good down to about 45 degrees. But in colder temperatures, don't have sufficient heft to keep me warm.
Thank you for your feedback.