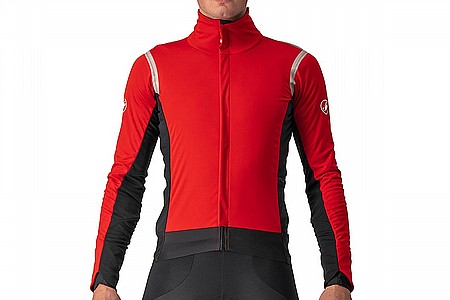 Competitive Racer
Boston area
1 of 1 customers found this review helpful.
I love this jacket!!!
This jacket has been awesome for me in temps down to about 30f on a high wind day (so, real feel was probably in the 20s) -- I haven't yet used it for temps below 30, but, I am highly confident that it would keep me warm in those conditions. I use it when temps drop below 50f. I wear only a thin baselayer when temps are in the upper 40s, and I remain warm, and cozy. For temps from about mid 40s to 30, I've used a thicker baselayer, and I've been totally warm. The material feels great, and the fit is super while riding. The pockets are good -- one could argue for a tad more depth -- but, all of my stuff (I don't use a bag, so pump, tubes, etc, go into the jacket pockets) fit fine, and stay secured. The double layering of material in the sleeves is awesome. I like the attached internal zip liner, which gives flexibility for wearing the jacket with comfort over a wide range of temps -- zip/unzip inner/outer as you desire. Breathability is really good. The only time things got a touch overheated was on a day when the temps shot up from low 40s into the 50s -- no problemo though because I unzipped a bit, and all was super. I am extremely pleased with this jacket. Hey, also, not directly related to the product, I've been super happy with the shop for 10+ years.
Thank you for your feedback.
Cycling Enthusiast
Harlingen, Texas
1 of 1 customers found this review helpful.
Perfect for its recommended temperature range.
I cycle in South Texas. Last weekend, the temperature decreased to 39 degrees which is cold here. In two hours, the temp rose to 58. I was extremely cozy for the first hour, but started sweating above 55 degrees. Recommended temperature range of 23-50 is pretty accurate. Also like it is form fitting, but not overly tight, although I ordered a Large which is my typical Castelli size.
Thank you for your feedback.
3 of 4 customers found this review helpful.
Excellent winter jacket
I already have a Castelli Perfetto jacket that's very versatile through a wide temperature range with different base layers, but I wanted something more specific for colder temperatures that was comfortable without the bulk of a thicker base layer. This is that jacket. Very comfortable. Not even a chill in the low 30's with only a short-sleeve base layer. The double layer cuffs absolutely keep the cold from going up the sleeves. The wind blocking is excellent. The insulating front inner layer extends into the sleeves and makes it cozy and yet it's still quite breathable. I wasn't sure I needed another jacket, but now I know I did.
Thank you for your feedback.
Cycling Enthusiast
Auburn, CA
1 of 2 customers found this review helpful.
Fits the bill and more
This is an expensive jacket, no doubt.But if you don't feel like freezing on the bike is what makes you strong, then consider this as the one jacket that will keep you riding. I have ridden in freezing fog, cold windy days, and something less than a downpour and this jacket did the trick. I like that there are two layers with zippers you can use to regulate warmth. I like that it is not bulky and maintains aerodynamics for the downhills. I like that the zipper is easy to find with gloves on and vent as needed for the uphills. I especially like that I don't finish a ride feeling like I need to squeegee the sweat off me before a post ride coffee. It was the jacket I asked for when we moved from the desert to the mountains, and I am glad I did.
Thank you for your feedback.
Cycling Enthusiast
Chicago
1 of 1 customers found this review helpful.
Great Castelli Winter Jacket
Great jacket for temps between 25-45F. Castelli has started making there clothing slightly larger, specifically with more room in the shoulders. Follow the size chart and there's no need to size up. I am 5'11" 176 lbs, and the Large fits great. I can use 1-2 baselayers and not feel restricted. Being on sale, I purchased a few more of these in all the colors. Highly recommended!!
Thank you for your feedback.