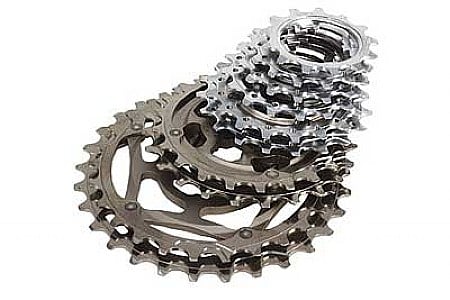 Competitive Racer
Los Angeles
5 of 7 customers found this review helpful.
In stock, right price, great cassette replacing one that had lasted 70,000 miles-met my needs.
With the prevalence of the in-style 11-speed cassettes it was great to find this replacement Campagnolo Record 10 speed cassette. It works great. I replaced the same existing cassette which had over 70,000 miles. When my bike shop mentioned the 11-speed grupos don't have the life durability of the 10-speed there was all the more reason to stick with my 10-speed grupo. It was great to find it at a good price.
Thank you for your feedback.
Cycling Enthusiast
Huskerland, NE
5 of 6 customers found this review helpful.
Campy 10 spoils you
Campy Chorus came my ti bike 10 years ago. I've since upgraded to this Record cassette for a time trials wheel. Thing about Campy 10 speed ... it'll shift smoothly no matter what you do to it. In the heat of a race I've stupidly shifted to the biggest cogs while still on the big chairing, and vice versa, and the system just smoothly goes there. While overpriced, the titanium cogs on the Record show no sign of excessive wear, probably because they're the four big ones. (Bike Tires Direct, you might check your description. Isn't it 7 through 10 are titanium ... 1 through 6 are steel? They are on mine ... unless Campy has changed the Record.
Thank you for your feedback.
Competitive Racer
San Antonio, TX
6 of 8 customers found this review helpful.
What's not to like - it's Campy Record!
I've tried Shimano, still preferred Campagnolo. Then I heard all the hype about SRAM Red and tried it, still prefer Campagnolo. It may be expensive, but nothing I've tried shifts as well or lasts as long.
Thank you for your feedback.