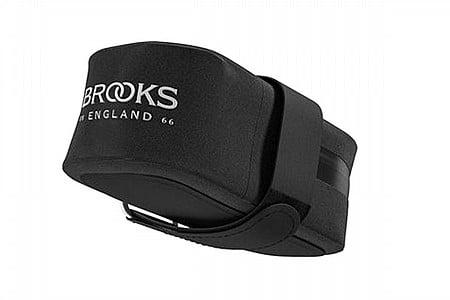 Cycling Enthusiast
Quad Cities, IA
1 of 1 customers found this review helpful.
Just Right
The bag is just right. It holds a tube, a couple of CO2 cartridges, and the CO2 valve, as well as a multi-tool, and tire levers. Just what I need for basic flat tire repairs or on-the-ride adjustments.
The strap loops around the saddle rails and tucks snugly up under the seat. By tightening the strap, the items in the bag are also held together so you don't get that annoying clank from the metal items banging into each other.
The zipper is a rubberized material that completely seals so you don't have to worry about water leaking through the zipper teeth.
All in all, a really nice, fashionable, retro style small bag. It matches up perfectly with my Brooks leather saddle and
Lightspeed T5.
It is also narrow enough that it doesn't rub against my shorts when I'm pedaling.
Thank you for your feedback.
Cycling Enthusiast
Portland, OR
Sensational Bag whose size belies its carrying abilities.
It is simply amazing how smart and simple of a design this seatbag, my chosen application for it, but can be attached to other Ortleib products, is. The clean look, amazing one simple pocket that holds more than you may think. This is my second bag, use this one for gravel and carry all the essentials CO2 inflater w two vials, Multi tool, wheel Boot x 2, spare Schwalbe Aerothan tub, tubeless tire patch kit and one tire lever wrapped with Electrical tape. Cannot go wrong with this bag and simple design, also allows for rear lights or Garmin Varia Radar for the road bike vs bags that hang lower and wear on your shorts.
Thank you for your feedback.
Cycling Enthusiast
Portland, OR