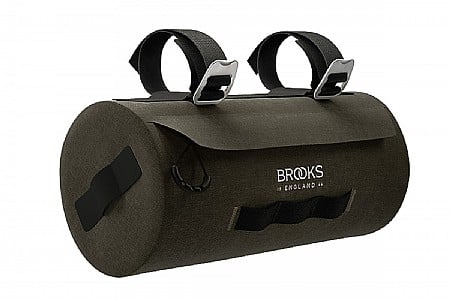 Cycling Enthusiast
Portland, OR
Nice but flawed design.
The bag itself is nice quality materials, and overall enjoyed my experience with it, however there are considerable flaws to the design. The biggest flaw is the zipper, it is very difficult to open or close while riding and after less than a year the zipper ran off the end, splitting the fabric and I had to cut the whole bag open to retrieve items. The zipper flap is pretty useless as it just flips up while riding, even in heavy rain, sometimes covering my handlebar light. The straps are well built and quite sexy, however they slip off the bag easily when not mounted, making it necessary to re-buckle everytime on and off to not lose them. Overall it's a nice city, light-use bag, just needs some updates in key places to make perfect.
Thank you for your feedback.
Cycling Enthusiast
bogota, co
Brooks Scape on bike packing trip
i used this handlebar bag during my last overnight backpacking trip. i filled it with rain gloves, a jacket, and lots of extra clothing items i figured i would need quickly while riding. the bag withstood hours of rain and had no leaks. it looks good and it is not bulky or heavy. i have kept the bag on full time. minor cons...The rain flap will stand straight up as you ride with speed/ downhill and I need two hands to unzip. there are loops on the side that i need to hold while unzipping.
Thank you for your feedback.