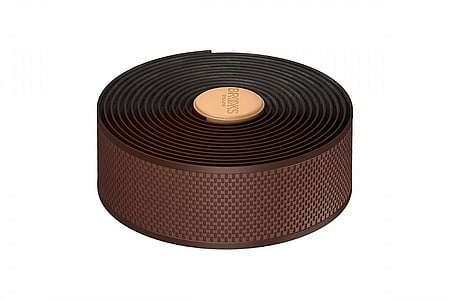 Cycling Enthusiast
St Pete,FL
Very User-Friendly
I live in Florida where we have warm and wet weather. I do not wear gloves so having bar tape that is not slippery is a pretty big deal. Some bar tapes feel tacky, but change quickly when wet to a water slide. The Brooks Cambium Rubber Bar Tape feels like rubber with good grip and feels exactly the same when wet. The feel of it is a combination of Newbaums and Supercaz.
It is on the chunkier side and although it is rubber it does not stretch a bunch. It took me quite a fews tries to get it on just right, so it was very forgiving. Even the cloth finishing tape had to come off a couple of times, but still adhered when I finally got the wrap right.
I paid $xx on sale at BTD and so far that has been the best price.
Thank you for your feedback.
Perfect compliment to a leather saddle.
Rating 5. Value 5, I used the price match and got it really cheap!
Very comfortable on hands, mega grip, great feel. It's wearing in to an even better feel. I have a brown B17 and the natural color compliments it...doesn't match, but looks good along with the darker brown saddle, and my bike is a Matte tan, sort-of-Desert Storm color. Easy to wrap, just enough stretch, no issues. Honestly the best looking, hand friendly bar tape I have ever used.
Also, tape is turning an authentic used leather kind-of shade from the oils in my hands, which adds to the fauxreal leather look, without worrying about the weather wrecking it!
Thank you for your feedback.
3 of 4 customers found this review helpful.
Awesome bar tape
First purchase of new tape, I have several bikes with the brooks leather choice. This is more tacky which is great for grip and enough padding for comfort great would but again
Thank you for your feedback.