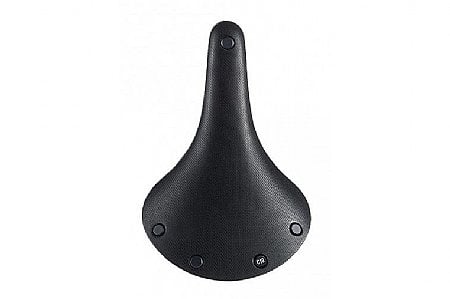 Cycling Enthusiast
Chicago, IL
Great Saddle
Bought this saddle for my wife on her bday. She has a fairly upright bike so I bought a C19 (instead of C17) and also bought the rubber one instead of leather just for the all weather feature. So far, she likes the saddle and it's much more comfortable than her old one.
Thank you for your feedback.
Cycling Enthusiast
Arkansas
2 of 2 customers found this review helpful.
Very comfortable saddle
I have had a very difficult time trying to switch back from recumbent bicycles to upright bicycles. My back requires I sit nearly upright. I went through well over a dozen saddles including several Brooks saddles. before I purchased this one. I have been very pleased with the saddle on rides of 20 miles. I have had no significant pain. I have not toured with this saddle, although I plan on it. i feel the extra width is essential for the near upright rider. The saddle seems sturdy but somewhat flexible. I feel this saddle is great for the upright rider.
Thank you for your feedback.
Cycling Enthusiast
Santa Cruz, CA
Daily Commuter
San Francisco, Ca
1 of 1 customers found this review helpful.
Brooks C19 Cambium All Weather Saddle
This seat is perfectly made as you would expect from a 150 year old company steeped in tradition. These seats are made in Italy but if Brooks puts their name on it, then it should be good. It is exquisite in finish, form, and materials. The seat looks rock hard when you take it out and it was only when the seat was mounted on the bike and i leaned on it to move the bike that I felt the flex. I have an upright seating position on my bike and that's why I got the C19. I've been on this seat for over 200 miles with the longest ride of about 22 miles. In the riding ive done I have found this seat to be very comfortable. It supports my weight and is smooth enough to move around on while riding. I think it looks sharp and adds to the esthetic of the bike and it rides very well. I ride with no pads and still find this seat to be comfortable even when I do a ride that incorporates lots of stops and getting on and off. The seat performs well in traffic. I stop for my turn in traffic and so I get on and off a lot just to keep my place in a traffic line. No problems doing that. My only wish is that it came in a color.
Thank you for your feedback.
Cycling Enthusiast
Western Nebraska