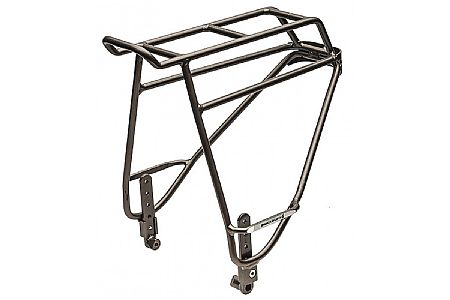 Solid
Good quality rack with multiple ways to attach,, only thing i don't like is the lower brace sticks out and makes yer panniers look cockeyed,, i cured this problem with hacksaw & file,, if it had been made to sit flush between the uprights i would have gave it 5 star's..
Thank you for your feedback.
Cycling Enthusiast
North Idaho, world wide bike tourist
3 of 3 customers found this review helpful.
Too wide to travel with
This rack is about 10 1/2 inches wide, wider than a normal bike box (cardboard or hard shell travel case) is thick. Most rear racks are about 8 inches. It is also wider than the maximum allowed for travel on AMTRAK. Aside from the otherwise good features (strength), the size of the rack makes it pretty useless if you intend to travel by air with it, or even ship it in a normal bike box.
Thank you for your feedback.