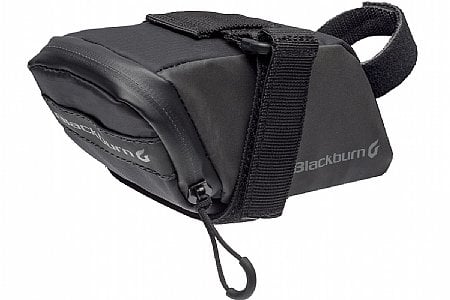 Cycling Enthusiast
Victorville, CA
Very Nice Bag with 1 Caveat
Size Med , but I ride tubeless tires, so no inner-tubes in my seatbag, so I could get by with a Small. Also, no tire irons or patch kit.
I have room for CO2 cart & chuck, 1st Aid Kit, micro Leatherman, Visine bottle of anti-bacterial soap, Topeak micro tool, chain Quick-Link, GU, CC-sized gate key, and 3,000mAh USB charger, although that might have to stay behind if I were using the small size. Lately I've been carrying a medicine bottle filled with GatorAid laid sideways across the top in back.
Love the reflective sides, they show up well at night, and in photographs using flash. Like the wrap-around main strap, and dust/waterproof zipper.
CAVEAT: The Velcro loop around the seatpost has a rough coating on it that will chew up the legs of your shorts. Replace it ASAP with something softer and non-abrasive. I remember distinctly writing Blackburn a nasty-gram 10yrs ago about this same issue. I used a Velcro strap with the soft, fuzzy side out. Works great.
Thank you for your feedback.
Cycling Enthusiast
Vancouver, WA.
4 of 5 customers found this review helpful.
Nice saddle bag
Needed a larger saddle bag to carry my new larger smartphone. It has two separate compartments separated by a soft liner to protect the phone from being scratched from tubeCO2 cartridge. I would have preferred Topeak type clips instead of a large velcro strap.
Thank you for your feedback.
Cycling Enthusiast
Eastern NC
1 of 1 customers found this review helpful.
Perfect
Just enough room for my use. I can get a multi-tool , patch kit, tire levers, wallet, keys and a compact pump. Couldnt ask for more. If youre a gram counter this is not for you, but it just suites me.
Thank you for your feedback.
New favorite
Even the small size option is roomier than my prior bag. Add that to the easy access zipper panel and secure attachment strap and it stays on securely even on rough gravel and mountain descents. Reflecting side panels are a nice touch too.
Thank you for your feedback.
Cycling Enthusiast
Downingtown, PA
Cycling Enthusiast
Columbus, Ohio
2 of 2 customers found this review helpful.
Blackburn Quality Continues
I purchased this seat bag to replace a Blackburn bag I've used for years. I shopped other brands but decided on buying a Blackburn bag again. I went with the large size, its a bit bigger than I need but still not too large. The water resistant material, practical inner design and great zipper all are nice features. This bag also secures tightly - no worries of it becoming loose. In use for a couple months, no complaints. Great looking bag as well.
Thank you for your feedback.