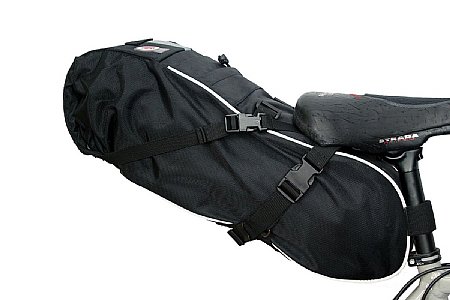 sturdy bag, just the right size, waterproof is a plus
I bought the standard size about 3 years ago, moderate use. When needed, I use it to carry spare tube and tools, lcok, wallet, keys, phone, and with some room left over for whatever. The two-strap attachment to the seatpost works well, and the seat straps are sturdy with easy to operate buckles.
If you need more room than what is here then you probably need to get a pannier.
Thank you for your feedback.
Cycling Enthusiast
Camas, WA
3 of 4 customers found this review helpful.
Small but large
The Banjo Brothers Waterproof Saddle Trunk has been very useful on my century destination rides. It allows enough space to carry some flip flops, extra change of shorts and shirt plus some other essential amenities for an overnight out and back. I have not used it in rain but it seems to be well made and should keep everything dry. It's storage is easy to access and close with a confident seal so nothing will fall out. Very cool pick up and glad I spent the $$.
Thank you for your feedback.
3 of 3 customers found this review helpful.
Good bag to have, never know its thier when riding.
I ordered this bag for winter time riding so I would have some place to put my jacket after I warm up. Now that spring is here think I will just keep it on bike instead of going back to my small bag. If you don't fill it up the back end rolls up folds over so it does not look so large when half empty. After using this oversized bag you will never go back to a normal saddle trunk.
Mark
Tucson
Thank you for your feedback.
6 of 6 customers found this review helpful.
The Best Yet
I have experimented with many bags over many years as a recreational and commuting. cyclist and the Banjo bag has proven to be the best of all in terms of size and attachment. Other bags invariably don't hang or fit right or are either too large or small. Banjo is just right
Thank you for your feedback.