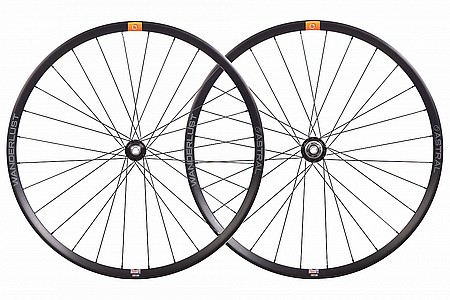 User submitted reviews
Review by Lou

Cycling Enthusiast

Hilo, Hawaii

Running smoth and fast

Bought these to go with new Shimano Ultegra rotors, pads and tires (700x40 Donnelly) on 2017 Specialized Sequoia (steel). Live in rainy area with lots of up and downhill. Now it's like having a new bike, and, man, it rolls nice. Brakes are smooth and silent. Money well spent. Thanks to BTD for help with the purchase and quick mailing. Astral, which was recently sold to White Industries, has a great website for wheel selection. They had a great sale going, but BTD had a set on sale. Money well spent.

Thank you for your feedback.
Review by adamW

Cycling Enthusiast

Reno, NV

1 of 1 customers found this review helpful.

Great alloy wheel for light gravel ./ all-road

I have about 70 miles on these, half dirt half road on my Surly midnight special. They come pre-taped for tubeless and include a cassette spacer and tubeless valves in the box. Well built and well packed. The hubs are rebranded White Industries CLD but with a steel freehub body instead of titanium. I prefer the steel for durability as I have other WI hubs and the cassettes tear into the TI freehub body. Anyway, the wheels roll fast in the dirt and on the road with Gravelking SK in 35mm. Seem very durable, no sign of going out of true under my 190 pounds (excluding gear). With the pre-installed tape they weighed in 970 rear and 807 front for 1777 combined or about 67 grams over advertised weight. They are made in the USA, serve my needs for a not-too-wide gravel wheel, and look fantastic. Very happy with the product and the company.

Thank you for your feedback.