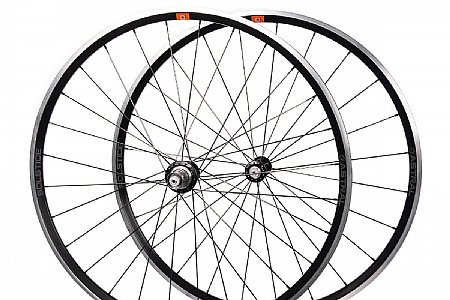 Cycling Enthusiast
Atlanta, GA
9 of 9 customers found this review helpful.
Great Performing, Lightweight Alloy Wheel - And It's USA Made!
I was looking for a wheelset manufactured in the USA - can't argue USA made as it helps both the economy and environment. After sifting through a number of companies that build wheels primarily with components manufactured outside the US, I found Astral Cycling. Astral is an offshoot of Rolf and manufacture the wheel in-house and source most of the other components from US companies.
Happy to have purchased a wheelset Made in the USA, I have even been more pleased with the performance of the wheels. I am 5'11" / 155 lbs and ride in the rolling hills of middle Georgia. The wheels were true out of the box and I have not had any shimmy through the frame on downhills. They also spin up quickly when needed and feel responsive cornering. Overall a great wheel at a really good value.
Thank you for your feedback.
Cycling Enthusiast
Hilly East Tennessee
6 of 6 customers found this review helpful.
Alloy rim brake wheels? Last of the breed!
My Zipp 101s, with over 43,000 miles, finally developed a stress fracture on the rear rim. And I am surprised that filtering the searches with rim brake (even including carbon) returned so few options. I guess there is no future in making high performance rim brake wheels anymore. I would have gotten another set of ZIPP 101s if they were still available. The Astral Solstice checked all the boxes on my list of features: rim brake, not carbon and light enough at 1481g actual weight. The wider rim at 19.23mm inner width is a bonus because my Michelin Pro4 Service Course 25mm tires now measures 28.8mm when inflated. The hubs have very good reputation but this is my first experience with White Industries hubs so time will tell. The Zipps 88/188 hubs were super easy to service but the White Industries look to be much more fussy.
The wheels were built with care, including the signed warranty by the builder. There is definitely a premium feel to them. I also like that they use top of the line Sapim CX Ray spokes are the same as my Zipp 101s. I checked the wheels on a truing stand and they are perfect (I rechecked them after 600 miles and they are good as well). The brake tracks are very nicely machined so braking is very smooth.
So what's not to like? The bearings were a bit noisy for the first few hundred miles but they roll better now with about 800 miles. Spoke counts are 24/28! And that's a bit overkill compared to Zipp 101s 18/20. Maybe the Astral Solstices are designed for much heavier riders? Until I switch to a disc brake frame set, these will have to do for now.
Thank you for your feedback.