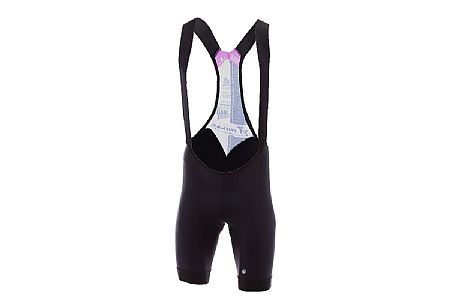 Comfort, quality worth the price
Buying shorts is almost as much fun as trying to buy a saddle so I was relieved to find something that finally fit me. I'm 6 feet tall and 160 lbs and the medium fits me well and this is the main reason I got them. I do rides of 1-2 hours mostly. The cut is similar to my old Assos in that the legs are shorter than most if not all brands that I tried and for my skinny legs I prefer that to so many shorts that come way too far down the leg and feel loose around the hem. I'm not crazy about the fad to the folded hem with printed silicone which almost all mfgs use. I liked the elastic hems with sewn in rubbersilicone material, it worked. I haven't tried these with knee warmers so don't know how they will hold. The shoulder straps stay in place and they should as they seem almost over-engineered, being a fairly heavy elasticized material. Again, my older pair of Assos had a good shoulder strap made of lycra that worked fine. Pad and surrounding material offers good frontal coverage (i.e modesty) and the waist is cut low for nature breaks. Pad is comfortable. If I get as many years out of this as I got from my Assos F1 Unos then the value should be very good. If after a few more rides they remain comfortable I may get a second pair to delay the need to go through the shopping process in case they get discontinued.
Thank you for your feedback.
1 of 1 customers found this review helpful.
Nice Bibs but a bit too tight
I like assos gear, but these bibs are awfully tight, esp eith the supenders. So tight, I broke out in a rash, just forward my armpits (I have very sensitive skin). Other than that, they function like a good bib short should & the faux chamois does its job. They almost feel like a 2nd skin...
Thank you for your feedback.
Cycling Enthusiast
Plattsburgh NY
Cycling Enthusiast
South carolina
3 of 12 customers found this review helpful.
I was completely disappointed.
I'm a recreational rider of medium size and build. For years I've heard nothing but superlatives about Assos bibs. When I saw an opportunity to purchase these bibs I jumped at it. I completely understood that they are entry level for Assos, but still expected them to be really good. WRONG! They chafed everywhere and left a rash on my legs. I use Chamois Butter, but that did not help. The fit was fine, but I own other bibs by Castelli and Pearl Izumi that are way more comfortable. I really wanted these to be great, but no such luck...at least for me. I am thoroughly disappointed.
Thank you for your feedback.
Cycling Enthusiast
San Jose, CA
2 of 2 customers found this review helpful.
Assos, legendary comfort. What more do you need to know?
CONS Expensive. Yeah, really expensive, even on sale at BTD.
PROS Fit. comfort, quality, everything. I've worn bibs from Castelli, Descente, ProCorsa, Louis Garneau, and Pearl Izumi. Assos beats them all, hands down, no contest. I've still got some Assos bibs from almost 20 years ago, and I ride a lot. Take care of them (wash them properly and hang dry) and they will last and last. In regards to this specific pair 1) Straps Wide and very comfortable and not made of some mesh material like many other brands (e.g. Pro Corsa). The fit is flat against your skin. 2) Chamois Very comfortable, and provides great padding without feeling like you're sitting on a pillow, even after 4 hours in the saddle. 3) Legs Grippy and just the right length. They don't ride up. Just damn comfortable. 3) Fit at the waist & sides They are a bit low on the hips and in the front, lower than other Assos bibs I own. I noticed this as soon as I put them on, but honestly, once I start riding, I don't notice this at all. On the plus side, when you need to take a bio break by the side of the road, the lower fit makes access easier.
Buy them. You will never regret spending the extra money to own Assos. Everything else will feel 2nd rate after Assos. And, no, I don't work for them.
Thank you for your feedback.
Cycling Enthusiast
Orange County, CA
1 of 1 customers found this review helpful.
NO EXCUSES TO GET OUT THERE
After recently getting back into cycling I started off with a 14 mile and an 11 mile on the first weekend. Needless to say, come Monday morning (Sunday morning actually) I was in no shape to be sitting on anything. Enter the Assos bib shorts, the next weekend I go out and ride 17 and 22 miles respectively, come Monday, I can sit at my desk, and act normal. Makes riding a breeze, the straps that purposefully go on the outside of your nipples is also a great touch. Order true to size, cannot put a value on having a great feeling bottom. I did some more research and turns out Assos doesn't need any glowing reviews. Here I am anyway dispelling any drawbacks you had of ordering one. Get it and get out there.
Thank you for your feedback.
Cycling Enthusiast
Charleston,SC
2 of 11 customers found this review helpful.
Disapponting
For years I've heard that Assos was the gold standard of bibs, so when these hit the market I decided to give them a try. The price point was great and I figured they would be a bargain at the price. I did not expect them to be as good as a pair costing significantly more, but I was really disappointed in what I experienced. First, the seams chafed me everywhere. Second, the material was not nearly as comfortable as any of my other bibs. The two times (and there won't be a third) I wore them I ended up with a rash on my thighs and as previously mentioned, chafing wherever there was a seam. These are easily the least comfortable bibs I own, and I will not purchase another pair of Assos at any price. I understand that other folks have had markedly different experiences with Assos and their reputation is stellar. Unfortunately, that has not been my experience.
Thank you for your feedback.
3 of 10 customers found this review helpful.
Disappointed
All I heard for years was how Assos bibs were the gold standard. When the T Mille S7 dropped I figured the price was right and I'd fine them a shot. Bummer. The seams chafe and I end up with a rash every time I put them on. I won't do it again. I'll eat the cost because it was nobody's decision to buy them but mine. I'm sticking with the 3 pair of Castelli's I own which are far more comfortable to me.
Thank you for your feedback.
Cycling Enthusiast
Seattle
Cycling Enthusiast
Fort Worth, Texas
2 of 2 customers found this review helpful.
The Assos T.Milleshort is the most comfortable bib I have ever used.
These shorts have become the go-to choice for daily rides due to the quality of fabric, fit, and relatively nice feel in humid, hot weather. (Nothing feels perfect in humidity.) In addition, the shorts are well made, and I expect them to last for good, long time. The T Milleshort is competitively priced. Other Assos products are pricey. But in view of long-term wear, Assos products are likely worth the expense. I look for Assos first when shopping for cycling clothing.
Thank you for your feedback.