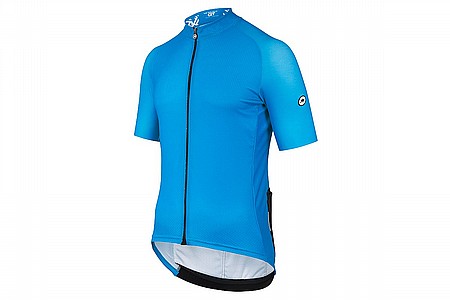 Cycling Enthusiast
North Georgia
Great jersey for the price.
I have a Assos medium jacket that fits perfectly. The jacket made me a fan of Assos products. The medium version of this jersey was too tight and too short. I'm 6' tall, long torso and a 38" chest. The large version fits great even though tight. The sleeves are tight on my arms which could be a problem for a more muscular guy. But I love the jersey. It feels and looks great.
Thank you for your feedback.
Cycling Enthusiast
Mesa AZ
2 of 3 customers found this review helpful.
I can't see how this Jersey is so Popular
I ordered a medium, my usual size, and couldn't believe how tight and uncomfortable this Jersey was and how thin it is ..especially in the torso area. I mean most of it, to me, seems like way over-priced material that is almost made out of white leg stockings! I guess I just don't get it. Additionally, I am only 150 pounds - so a medium should fit, feel, and look better in my opinion. And as thin as it is I don't see how the SPF rating it states it has protects you. I have returned it and am getting a Garneau jersey instead.
Thank you for your feedback.
3 of 4 customers found this review helpful.
Nice lightweight material, but too translucent
I love Assos bibs & shorts, but I've had a hard time keeping one of their jerseys. I wanted the white version of this jersey for summer >80F. White clothing in desert heat works great for temp management. But this jersey fit a little smaller than expected and was much too translucent for the entire abdomen - requiring a base layer and defeating the purpose of having white. The material also seemed to be less robust and prone to premature wear, but I didn't end up testing that. Ended up returning and going with the Giordana FR-C Pro which has super strong, thin, lightweight material and the fit and compression are perfect for me.
Thank you for your feedback.
Cycling Enthusiast
Metro Boston
1 of 1 customers found this review helpful.
Love this jersey- the fit, color and look
I'm not one to gush over clothing, but I really like this jersey. It fits well, I like the color and that it is a solid color rather than the many busy,multi-colored "event" jerseys I own. I like the slightly longer sleeve and the way the sleeve ends without a band at the end. I've received numerous compliments on the jersey from riding friends and from strangers on the road! (That's never happened before).
Thank you for your feedback.
Cycling Enthusiast
San Francisco
Cycling Enthusiast
sacramento, ca