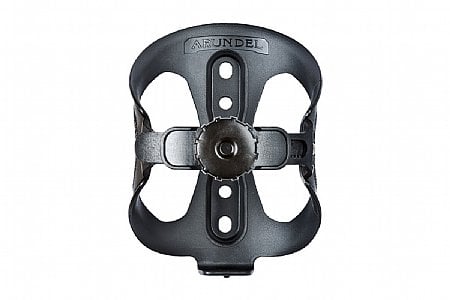 Cycling Enthusiast
New England
Surprisingly good
This adjustable bottle cage holds a wide range of container sizes, all the way up to a 2-liter Nalgene. I was impressed at how securely it holds bottles - it held onto a normal road bidon for a full 6-hr brutally rough gravel race with no issues - and is surprisingly light. Highly recommend.
Thank you for your feedback.
Daily Commuter
Sacramento, CA
Excellent option for carrying a Hydroflask in hot/cold weather
This was the 2nd one I've bought (for my wife's bike) and my original one has stood up stood up to years of use, even on gravel rides.
Fits up to the 40 oz Hydroflasks, so I can enjoy plenty of ice cold water during hot summer rides. Also used for carrying wine/beer bottles when shopping, so all-in-all an incredibly versatile cage!
Thank you for your feedback.
Cycling Enthusiast
North Alabama
2 of 2 customers found this review helpful.
Sturdy and versatile
Attached two of these to each side of my forks on my new gravel bike. I found the ratcheting tightener to be very robust and will accommodate a wide range of diameter containers. I plan on finding a couple of drink bottles around 3 12 and recycling them to put light items in, like a rolled up rain jacket or other items.
Thank you for your feedback.
Cycling Enthusiast
Indiana
Cycling Enthusiast
Baltimore, MD
Cycling Enthusiast
Central Wisconsin
Best Cage I've Ever Used
I never realized until now that I've been searching for these cages for at least the past 10 years. They work perfectly for any size bottle and the adjustments clicks are very fine. You can cinch each bottle down with just enough resistance that it can come out easily, or a little stiff, or if it's the secondary that you're not using yet, super tight. My favored bottle is a Thermos stainless double wall insulated (24 oz?) - because I absolutely hate drinking hot water. I could make other cages work, but always with rattles - and sometimes a bottle launch at a big pot hole. These are perfect. Perfect fit. Perfect access. No rattles.
Thank you for your feedback.
Competitive Racer
Hillsboro