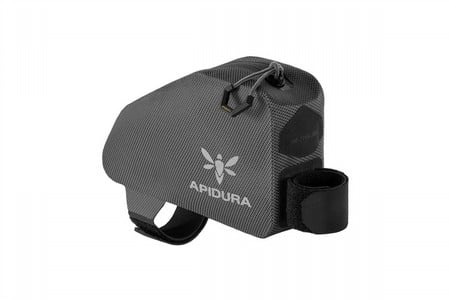 Cycling Enthusiast
Chicago, IL
3 of 3 customers found this review helpful.
Big enough for a charging brick and some Clif bars
The 1L version is comfortably large enough for food and a charger. The charging cable can be routed through a small gap in the front of the bag, or directly through the zipper (there's a small gap near the front for a cable to fit through). I found the bag sits too close to the stem of the bike to use the gap and routed my cable through the zipper instead.
The bag was waterproof enough to survive some pouring rain and the contents inside were only damp, but definitely more wet than they would be in a dry bag. The zipper is not sealed by any means so I wouldn't rely on it keeping rain out.
Thank you for your feedback.
1 of 1 customers found this review helpful.
Great choice
I'm glad I purchased this top tube pack. The large size holds a lot without getting in the way: my Galaxy S20 phone, CO2 inflator head and 2 cartridges, plastic tire levers, patch kit, and a spare tube. My knees rarely brush against it when I'm up out of the saddle. Seems to be truly waterproof too. The bright yellow interior helps when searching for stuff too.
Thank you for your feedback.