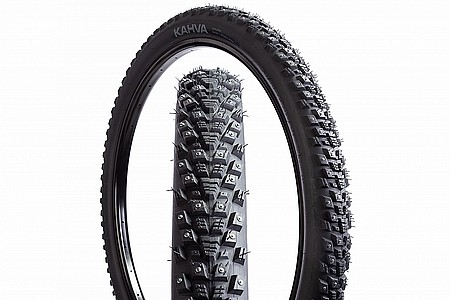 User submitted reviews
Review by Anonymous

Daily Commuter

St. Louis, MO

Great studded tire

Before getting these, I used the 2 inches Marathon ice, and liked them. However, with any snow beyond 2 inches, I tended to bog down. In comparison, the 45nrth are far more surefooted in deeper snow and ice. The price is more rolling resistance on dry roads. It is a compromise I'm willing to make as bike is my main mode of transportation

If you live in a city that gets freezing rain, or frozen roads, but not much snow, the Marathon ice is a better tire. These are more than what you need. If you have to ride in loose snow and ice, these are the best, unless you are going way fatter

Thank you for your feedback.
Review by Rick V

Cycling Enthusiast

I ride in southwest Michigan along Lake Michigan.

Best studded tires I've owned.

I use this tire for winter riding on the road on my hardtail. Easy to install. Betteron uneven icy areas than other tires I've tried. Expensive.

Thank you for your feedback.