Product Images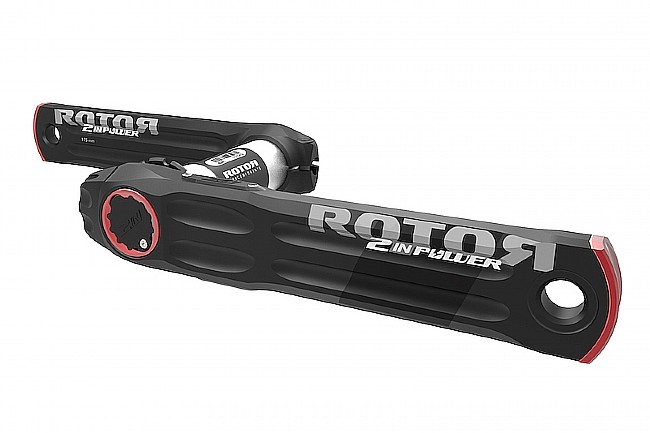 Click Here for Larger Image
Description
Rotor 2INpower Direct Mount Crankset
The Rotor 2INpower Direct Mount Crankset offers real-time power measurement of both legs, allowing you to optimize your pedal stroke in the pursuit of performance gains. 4 sets of opposing gauges measure left and right legs independently, providing higher data sampling rates for precise data about pedal stroke balance, power output, cadence, and torque effectiveness.
2INpower DM Road is a powerful tool for measuring your unique pedaling biomechanics via Rotor's Power application. Access real-time performance rich data including proprietary metrics TORQUE 360, Optimum Chainring Angle (OCA) and a recommendation of your Optimal Chainring Position (OCP). Combine this key information with Rotor's Q RINGS® oval chainrings to adjust your OCP in 1 of 5 different positions for fine-tuned pedaling efficiency and maximize transmission of power in your unique pedal rotation.
Connect your 2INpower Direct Mount Road Crankset to your cycling device or smartphone via Bluetooth Smart® or ANT+ and easily export your data to deep dive into your training analysis with various platforms such as TrainingPeaks.com.
Rotor's 2INpower Direct Mount Crankset is optimized for and compatible with Rotor's Aldhu Q Spidering Direct Mount Chainrings
Complete The Crankset
Specifications
170mm - Direct Mount (No Chainrings)

Mfg PartNum: C13-031-19010-001

172.5mm - Direct Mount (No Chainrings)

Mfg PartNum: C13-031-20010-001

Mfg Warranty: 36 Mo. Parts

Warranty URL: https://rotoramerica.com/pages/warranty
Reviews
Ordered by Most Relevant First
Cycling Enthusiast
Madison, WI
Great piece of training gear, wish I had bought sooner
I was already running a Rotor set up, so easy conversion to this power meter. This paired easily to my Garmin head unit for power meter function. I reused the Rotor chainrings that I already had been using. Everything went together as the instructions stated, just get your spacers correct and check for adjusting your front shifter throw. Rotor power app is a little wonky but works for realtime data to check your left/right power. Very interesting to see the difference in power between legs and how they are working across the pedal stroke. I may now do more research into the Q rings.
Thank you for your feedback.