Product Images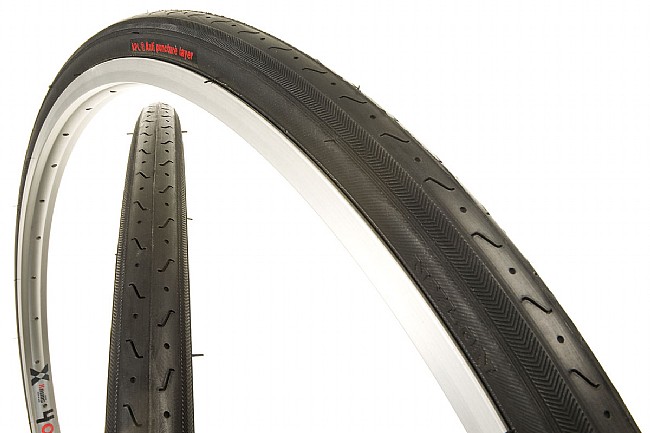 Click Here for Larger Image
Description
A good basic replacement tire for 27 Inch wheels. The Super HP's inverted tread pattern diverts water while good solid rubber prevents flats. A raised center tread allows speed on straights, while extra tread on the sides provides added confidence in turns. This version features a puncture protection beneath the tread to keep out broken glass. 90 PSI Max. Wire bead. 472 grams. 27 x 1 1/4 Inch (32-630 ISO).
Made in China.
B-Stock - This product has one or more B-Stock units available. These units can be purchased at a discount (see option select). B-Stock units were returned from other customers and may have missing or damaged packaging materials. These units are otherwise as new. The full manufacturer warranty applies. Click Here for more information.
The product weight specified is an approximate weight based on the manufacturer's specifications (if available) or our measurement of one or two examples. For most products, the weight will typically vary by 5% to 10%.
Specifications
Weight: 474 grams
Weight: 474 grams
Threads Per Inch: 33
Tire Type: Clincher-WireBead
Wheel Size: 27" (ISO 630)
Tire Width: 32mm (1.3in)
Reviews
Ordered by Most Relevant First
Cycling Enthusiast
Pittsburgh
2 of 2 customers found this review helpful.
Best Tire!
I had a pair of Cheng Shin Super HP Tires on my Schwinn Le Tour III for years and have had the best performance. They ride smooth, grip the ground, are great in turns, withstand puncture and are priced well below other tires that do not perform as well. Now I've bought the Cheng Shin Super HP Tire with Puncture Protection. Watch out!!! I absolutely LOVE these tires.
Thank you for your feedback.
Cycling Enthusiast
Kingman, AZ
7 of 7 customers found this review helpful.
Long lasting and puncture resistant indeed!
I just replaced these tires after 14 mo, and 6300 miles of service. Though well worn, still had meat on the tread (flat spotted), with no sidewall deterioration. I ride 7 days a week, 17 to 25 miles a day on a 1982 Ross Gran Tour II. I also live in AZ, loaded with flat inducing goat heads. Combined with a set of thicker tubes with some Slime added for extra protection, I had ZERO flats. I have never purchased a more durable tire at ANY price. Keep them inflated to 90lbs, and they are virtually indestructible. Did I tell you how much I love these tires? You will not be disappointed putting these on your vintage road bike.
Thank you for your feedback.
Cycling Enthusiast
Hager City WI
Casual Cyclist
Washington, D.C.
Cycling Enthusiast
Georgia
2 of 4 customers found this review helpful.
have not ridden on them much, but they do ride good and fit really good on the rims
I'm a recreational, active rider. I ride to keep in shape for military duties. The tire fit the rim perfectly without any low pressure adjustments usually associated with 27 tires. So far I like them.
Thank you for your feedback.
Cycling Enthusiast
Florida & Wisconsin
15 of 17 customers found this review helpful.
A durable and inexpensive tire for us diehard 27 wheel riders - A better value than I expected.
I ride a 1972 Schwinn World Voyaguer. This bike has carried me across the USA
from east to west and then from Canada to the Gulf coast. I followed the entire
Mississippi River & cycled around Lakes Michigan, Huron & Superior.
I'll bet I've had 50 sets of tires on this all-original 10 speed.
Finding a quality flat-protected tire in a 27 and priced within reason is getting
harder all the time. I'm very satisfied with your tires....
For the summer of 2013, I'm doing THE AMERICAN BRIDGE ROAD TRIP - Driving around the US and biking over every major river and historic bridge.
I have complete faith that these tires will roll me across all my destinations
without any problems. Jim Beloian
Thank you for your feedback.
Casual Cyclist
Columbus, OH
Cycling Enthusiast
Seattle, WA
8 of 9 customers found this review helpful.
Robust puncture resistance, excellent price, stable ride! Good workmanship.
I ride a bike for city commuting, with heavy gear, over nasty roads and have gotten LOTS of flats in the past, I have zero patience with flat-fixing downtime. My other tire choices get punctures weekly. So far this tire has proven SOLIDLY pucture resistant, has low rolling resistance and good handling even for a slightly stiffer, puncture resistant tire. Installs easily on legacy 27 x 1 14 rims. I added tuffies inserts because flats are not my patience point! So far the combination of this tire plus tuffies work GREAT on my rides. For an imported tire, the quality of fit and finish is great...and Im a stickler for well made tires with no manufacturing blemishes. I would have paid $45 for a similar tire locally here in Seattle so this tire is a SOLID value at the price Bike Tires Direct provided. I'll be back for another in a year or so. Its tough finding sweet, pucture resistant tires for an older (27 x 1 14 size) bike...this one is a keeper!
Thank you for your feedback.
Mechanic's Corner
Articles will open in new tab.
A guide to bicycle tire sizes, both standard on newer bikes and common on older bikes.
Understanding older bicycle tire sizes.
A useful chart for determining the tire size you need for your bicycle.
Tips for proper bicycle tire mounting and tire safety.
A guide to understanding tire width.
A guide to understanding bicycle tire tread patterns and what you should look for.