Ortlieb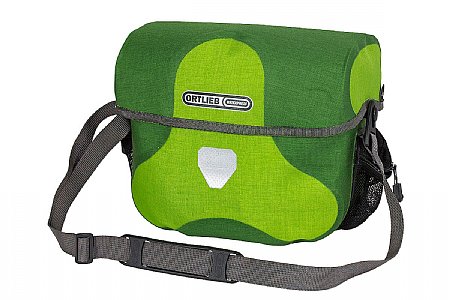 Another great product from Ortlieb
Yet another great product from Ortlieb. After touring with another bag for years and getting 4 days of rain on the Erie Canal, I knew it was time to get a handlebar bag where I would not find my valuables floating in water at the end of the day. The Ortlieb Ultimate Six Plus is not only waterproof but lighter. It also has a quick close/open magnetic top (no zippers to stick) and the ability to lock the bag to the bike and lock the top closed. Divider inside is a bit funky but works. Attaching the strap has a bit of a learning curve, but once you figure it out it works well. Yes, I would recommend this bag.
Thank you for your feedback.
1 of 1 customers found this review helpful.
11 L bag
This bag is incredibly well made and definitely waterproof. I would give it 5 stars except for one important issue. I carefully packed my bag to have the heaviest items at the bottom, and upon mounting it never showed sag, just a nice angle upward from the seat. I did a test ride on some pretty rough gravel and no problem. However, on my trip I was on gravel and had numerous cattle guard crossings and it began to slip down and would bump the tire requiring me to stop and re-tighten. Fortunately I had some Voile straps(highly recommend for their versatility!) and was able to "boost" it up. After getting home and doing some research, it turns out Ortlieb makes a "Seat Pack Support Strap" to address this very problem. They suggest the problem is from improper packing, but honestly I think this support strap should be included. This was on the smaller bag, so I can only imagine it would be necessary on the larger one. The slipping occurs in the attached webbing straps. Ortlieb's price is $xx for the support strap. Definitely get it or plan to use a Voile, which might actually be more durable.
Thank you for your feedback.
Simply Perfect
It's Ortlieb: Quality, convenience, simplicity. I'm 5ft tall and so have a very small bike. I use these on both the front and rear racks. They mount and remove super-easily, and hold an astonishing amount of stuff. I do 90% of my shopping and errands on my bike, leaving my car at home. One (or two) sets of panniers carries everything I need.
Thank you for your feedback.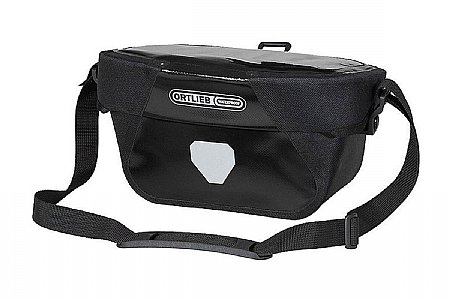 Cycling Enthusiast
Minneapolis, MN
Great bag - BUT NOT FOR CARBON HANDLEBARS!
I used this bag on a multi-day ride for phone/RideWithGPS + battery pack, wallet, assorted other gear (hydration tabs, snacks, indoor glasses). Pretty roomy, with large clear section that worked well with touch-screen phone and small maps.
Upsides: Mount was quite secure, and it worked really well on the ride, release and strap were useful, and I also liked the locking mechanism. Great for hopping off bike for a restaurant stop.
Downsides: The cable-based mounting is secure, but beware that it will abrade/score carbon handlebars (which I overlooked in the description). It is also difficult to remove/re-install same cable-mount without damaging cable (I had to box bike and removed handlebars for shipping) - you can buy new cable for ~$9. Also found that using black bag on hot sunny days with phone GPS + battery pack overheated it and it would shut-down - so better off using an external phone mount or bike computer depending on riding weather.
I'll be moving this to my commuter bike.
Thank you for your feedback.