Ortlieb
Cycling Enthusiast
Fenton, MI
The 15 liter pack was perfect for carrying my tent and a few other things across the straight bars of my fattire bike..awesome product!
I used this handlebar bag across my handlebars of my fat tire bike for my first bike packing trip in April 2021. I carried my 3person 3season tent (mutha hubba) and it fit well and I was able to stuff in a couple smaller items on the ends of the pack. I liked that the back opens on the ends, so I could leave it attached to the bike and pull out what I need, and put back in, without having to re-roll/reattach. It fit very securely and didn't bounce around at all as I was riding. This pack is waterproof, and it feels very solid..I feel confident that it will last a long time! I absolutely love it!
Thank you for your feedback.
Cycling Enthusiast
East Central Wisconsin
Great build quality - compatible with Topeak UNI Super Tourist DX (Disc) Rear Rack
COMPATIBILITY REVIEW, as I have yet to take these out on their first long trip. THE CHALLENGE: I have a TOPEAK MTX TRUNKBAG EXP (16.6 L) system which I wanted to retain compatibility with for lighter weight in-town and local day tripping convenience, but wanted the ability to easily add on the Ortlieb Back Roller Plus bags for multi-day and multi-week trips involving substantially more gear, with better water resistance. My bike is a disc-brake 2017 Trek FX S4 - yeah I know - not really a long distance touring bike - but it works for me. Anyhow, it takes a special rack, the Topeak UNI Super Tourist DX (Disc) Rear Rack to mate Ortlieb rear pannier bags and retain the ability to simultaneously mount the Topeak hard shell trunk bag on top. I can report that rack/trunk/Ortlieb bags work flawlessly together and that these bags fit snugly and the tool free-adjustment of the Back Roller Plus made the initial install a 5 minute job. BTD had a great price and it arrived a day early to boot! Looking forward to 1000s of miles of blissful long distance riding with these bags.
Thank you for your feedback.
Cycling Enthusiast
Traverse City, Mi
2 of 2 customers found this review helpful.
Best Saddle Bags I've Ever Used
I'll often use just one bag but adding the second one is beneficial for balance. These bags are so easy to put on and take off, seal contents completely and carry a lot of stuff! Here in Michigan, I will pick up deposit cans & bottles while cycling secondary roads (10 cents each) and use one bag for such while clothing & tools occupy the other bag. I just turned in 240 cans at the grocery store. Not a bad return for cycling the countryside, while enjoying the scenery and the healthy exercise.
Thank you for your feedback.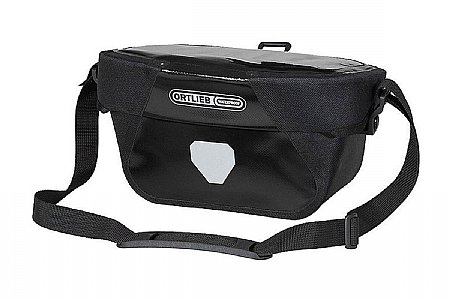 Cycling Enthusiast
Seattle WA
Great bag got better
I wore out an earlier version of this bag - like 20+ years old and lots of international touring! One problem with that bag was the metal snaps used to secure the lid became very hard to open. The new bag uses magnets which is a big improvement. I also really like the bright yellow treatment. 'Conspicquity' is very important to me - be seen! One thing I don't like about the new design was the elimination of the front mesh pocket - handkerchief holder! But I was able to salvage my old pocket and get it to fit on the new bag with a little scissor work and prying the plastic pieces that hold the new bag together.
Thank you for your feedback.