Ortlieb
Even better than expected...
I picked up this back to finish off a bikepacking build and could not be happier with my full set of Ortlieb packs. I hesitated on the frame mounted pack due to my top tube cable routing and concerns with scratching my vintage steel frame. However, how the bag mounts sort of cradles the bag around the top tube so that the straps go right over the cables without any touching. The bag is sort of concave along the top to mold around the tube similar to the ends. The result is everything stays in place really well as long as the dimensions match your bike. Bag itself also seems very durable yet lightweight like all Ortlieb products.
Thank you for your feedback.
Cycling Enthusiast
Rocksylvania, PA
Worthy Frame Bag
Very good frame bag that sits out of the way and doesn�t interfere with pedaling, water bottles or strava KOM�s. Only thing that would make it better would be a way to divide the space inside and line it with a bright fabric.. Bonus of being able to wash the bike with bag still on and everything stays dry inside!
Thank you for your feedback.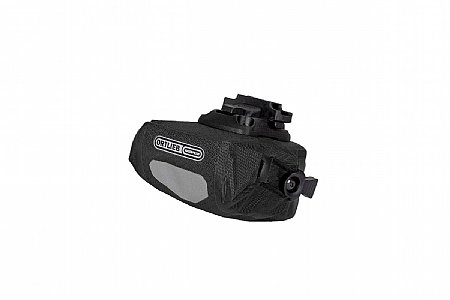 Cool bag
I like that it keeps my stuff clean and dry,, and I have mounts on different bikes so I can switch from bike to bike easily. It's not the easiest bag to pack because it won't roll up very well if the contents aren't packed down far enough. Overall it's pretty cool.
Thank you for your feedback.
Ortlieb Saves the Day
I just rode my touring bike from Seattle, Washington to Tillamook, Oregon � 409 miles. I was carrying Ortlieb panniers on the rear and Arkell panniers on the front. But there is a disadvantage in not having items readily at hand such as snack foods, sunscreen lotion, money and ID, and a charging cord. This was all handled brilliantly by the Ortlieb top tube frame pack. It holds a ton of loose items, is waterproof, easily accessible, and still allows you easy access to both your water bottles. It's well worth the money and I only wish I had purchased it sooner when I rode from Santa Monica, California to Bar Harbor, Maine.
Thank you for your feedback.