Maxxis
Cycling Enthusiast
Madison, IN
outstanding in most conditions
I like Maxxis tires anyway and expected these to work well, which they do. After years of using Kendas as my winter tires I switched to these and have been very happy. They are lightweight but seem durable. They have great handling, especially in turns. Their rounded profiles are much preferred to the Kendas and their square-edged shoulders that resulted in sudden tip-in on turns. They mounted tubeless on my Stan's ZTR rims with minimal fuss. Traction is good wet or dry, upright or leaned into a turn. I particularly like that these Ramblers run so well on so many surfaces as most of my gravel rides are mixed-surface rides. One ride I do often transitions from asphalt to gravel and back again multiple times over the 35 or so miles and these tires handle those transitions without a blip. However, on really burly gravel these can get overwhelmed. I'm thinking here of gravel better negotiated with 2.4 or larger MTB tires. For everything else, though, the Ramblers excel and I'm willing to accept sketchy performance in extreme conditions for exceptional performance in all the other conditions I encounter.
Thank you for your feedback.
A great road/gravel tire for most of us
I've used the Maxxis Re-Fuse 700x40c for several years now. It's a very durable tire that rolls and definitely wears much better than most any road/gravel tire, including the Maxxis Rambler. This is not a weight weenie tire but those should be reserved for race days only. The Re-Fuse also works very well as rear tire for on-wheel trainers like the Kickr Snap. The convenience of being able to use the same tire for riding and training is tough to beat!
I've had some challenges airing it up tubeless with just a floor pump. You want to use plenty of soapy water with this one. It's not a great tire for low traction conditions.
This is one of those Maxxis tires that doesn't run smaller than marked - it's true to width (700x40c). Overall this is a great choice for anyone not needing to podium.
Thank you for your feedback.
2 of 2 customers found this review helpful.
Best Tubeless So Far
In 2020 I have ridden 8300 miles. The first 2000 were on Specialized new Turbo RapidAir which were an utter disappointment as I went through 3 tires with sidewall rips. I decided on Maxxis as I had never had any issues on MTB over the years.
These tires, while maybe not as supple as the S-Works are basically bombproof. In a 25mm, I have ridden all road surfaces including dirt and gravel. I did burp one time on a Boston pothole but since remount I have put an additional 1500 miles on w/o problems.
6300 road miles on the set now and I will start 2021 on them without worry. Highly recommended!
Thank you for your feedback.
Cycling Enthusiast
New Jersey
1 of 1 customers found this review helpful.
Excellent tire provides wonderful smooth ride
I ride my gravel bike on both gravel trails and asphalt and this tire provide a nice ride with little resistance on both surfaces. The tire replaced a slightly thinner tire with thicker more aggressive tread, so it was kind of an experiment, but I'm glad I made the change. Sounds silly but this tire gives me extra joy when I'm riding my gravel bike.
Not great in mud or loose gravel but I have a different bike for those conditions.
PS. I rated these tires a steal because I got them when they were on sale.
Thank you for your feedback.
Total Savings:
$22.20 (20%)
Earn $8.88 store credit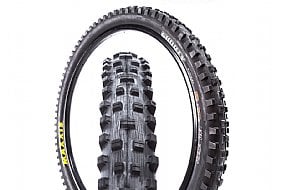 Total Savings:
$16.80 (20%)
Earn $6.71 store credit
Total Savings:
$14.00 (14%)
Earn $8.10 store credit
Total Savings:
$6.00 (10%)
Earn $5.20 store credit
Total Savings:
$6.00 (10%)
Earn $5.20 store credit
Total Savings:
$7.00 (10%)
Earn $6.10 store credit
Total Savings:
$7.00 (10%)
Earn $6.10 store credit