Louis Garneau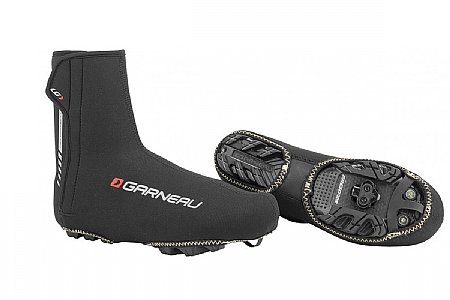 Cycling Enthusiast
Portland, OR
Works like a champ!
I purchased these just prior to a century ride to keep my feet warm, but a big storm rolled through and dropped rain for 4 hours. The LG Neo Protect 3's did their job, not only keeping my feet warm and dry from the rain, road spray and the road grime. These shoe covers are definite worth their value if you ride in chilly or wet conditions. They are made of heavy neoprene, so I did sweat a little, but it was a small price to pay for the comfort which made for a enjoyable ride.
Thank you for your feedback.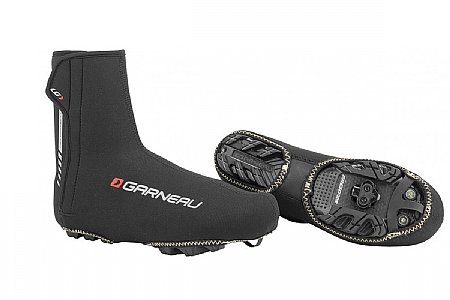 Cycling Enthusiast
Pacific NW
1 of 1 customers found this review helpful.
True to sizing and would buy again, but make time for getting these on!
I wear Shimano shoes in size EU 43 / US 9 and have wide feet. Ordered these LG Neo Protect III Covers in size Medium and am happy to report a great fit. However, they take waaay longer to get on than my other covers. Two reasons for this are the neoprene material and, more so, not having a velcro adjustment between the cleat holes. Can't be in a super hurry when including these Neo Protect III's with your outfit. Be sure to allow an extra few minutes for easing into these.
Thank you for your feedback.
Daily Commuter
Pittsburgh, PA
warm, durable winter tight
I bike daily and average about 5000 miles annually, in the winter, I bike about 750 - 1000 miles even in the cold.
The solano tight is well designed to protect the front of the legs whilst letting moisture out the back. The knee is a bit stiff to articulate, but after riding a bit it feels okay. Off the bike, I feel a bit restricted in terms of movement, but perhaps that is size-related.
I previously used my other tights (not cycling tights) which were meant to be worn underneath as a base layer and those provided no wind protection so my knees (and legs) would be cool (not to be crude, but some external parts would be cold, especially when riding down to 10' F). The tight is a huge improvement over those tights (referencing earlier comment, no uncomfortable coldness in sensitive areas). Now that my legs are warm, the next thing I need to improve is my hands and feet.
I get out of the tight carefully to avoid stretching it around the ankles and it also turns it inside out which lets it dry better. A zipper would be nice to make that easier, but if you need to dry the tight anyways, just get out of it carefully and slowly.
I have only worn this one season and so far they seem durable and well made. I hope to get many seasons from this tight.
In terms of sizing:
I am 150 lb and 5'9" and am wearing the small tight. The small fits, but I think I am at the limit of the small, I think the medium would fit better. I am happy to have purchased the Solano tight to keep myself warm in the winter.
Thank you for your feedback.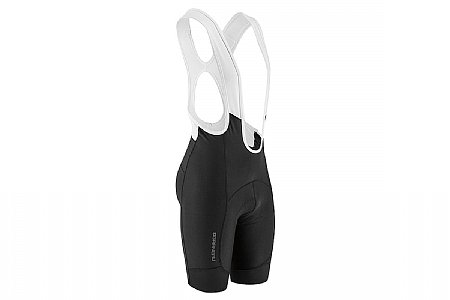 Cycling Enthusiast
Washington, DC
1 of 1 customers found this review helpful.
Very comfortable
I've been using the LG bibs and shorts for several years and find them to be a great fit. I have a 31" waste, 5'10" tall, 135lbs, and small is just right - tight when first putting on, but immediately forget about them when starting to ride. I hate rubber grips on my legs, so these bibs using just compression are perfect and super comfortable (I'm a mountain biker who doesn't shave legs). Used recently on a 22 1/2 hour mountain bike epic and my rear end was probably the only part of my body that was still feeling okay. I get about 2 years out of them with 2-3 uses a week and being washed after every use (warm water and air dried). There seems to be changes to the pad material occasionally. The latest (7/2021) version has the nice smooth material that doesn't pile after washing. A couple of others did, but are still comfortable. No idea if my resistance to fatigue has increased over 10%.
Thank you for your feedback.
Total Savings:
$40.00 (40%)
Earn $2.99 store credit
Total Savings:
$40.00 (40%)
Earn $2.99 store credit
Total Savings:
$44.00 (40%)
Earn $3.29 store credit
MSRP: $69.99
Total Savings:
$21.00 (30%)
MSRP: $54.99
Total Savings:
$16.00 (29%)
MSRP: $99.99
Total Savings:
$60.00 (60%)
Total Savings:
$94.50 (35%)
Earn $17.54 store credit