Lazer
Cycling Enthusiast
Santa Barbara
Amazing helmet, fast delivery
First time purchasing from this site and was pleasantly surprised. Speedy delivery and everything arrived perfect.
As for the helmet itself, an absolute steal at the sales price - very lightweight, well-ventilated...unfortunately I never got to take it on a ride. I was right on the border of M and L and I went with L and alas...a bit too big for my head.
Thank you for your feedback.
Really light. A little bit big.
When it came time to replace my helmet, I wanted a light weight MIPS helmet. I decided on the Laser because you can get a snap-on cover for cold & nasty weather.
It is certainly light ( even with the optional cover).
It has a unique dial on top to adjust the fit. Unlike most helmets that clamp the occipital area, this one snugs to your head higher up. You may or may not like this feature. I always wear a medium, and I have to crank this one all the way down to fit my head, so it runs a bit big.
Thank you for your feedback.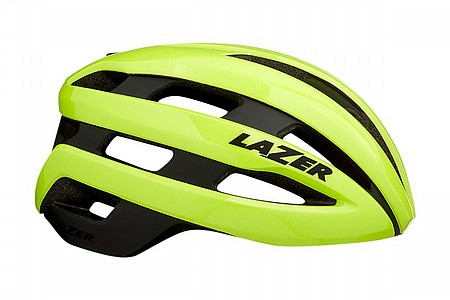 Perfect!
The most important thing: this helmet gets a fine star rating from Virginia Tech's rigorous helmet testing program. It's one of the safest out there, and it doesn't cost an arm and a leg and your first born. The color I bought, I forget the name, but it had 'sunset' or something in it, is a kind of iridescent blue with pink running through it. If you're averse to pink, don't get that color I like the color myself. The helmet is comfortable but seems to run big. I bought the smallest size available and it is totally cinched down. Yeah, I have a pin head, but I've seen smaller heads too, just be aware. All in all a great helmet. I bought mine on sale.
Thank you for your feedback.
Cycling Enthusiast
Saratoga, CA
1 of 1 customers found this review helpful.
Doesn't look like it would be cool, but it is! And whisper quiet too!
Over the years, I've used helmets from Bell, Giro, POC, and Kask, and they all have their positives and negatives. In my most recent iteration for example, I found the Kask Protone a particularly good fit for my head, but the chin strap is a bit bulky-- although quite comfortable. I crashed and hit my head hard while that helmet recently, so I had to retire it. Figuring there would be something better, I found the Laser Vento, which had just been released. In the Vento, I got an excellent fit-- a medium for my medium head-- with an easy and precise adjustment mechanism that stays in place after being set. The chin strap is comfortable and you don't even feel it under your chin, although I suggest you take some time to get the straps to lay comfortably around your cheeks and under your ears-- it will make the helmet more secure, and also more comfortable. The big revelation for me with the Vento is the cooling. Although it looks like it would be hot, I've found it to be remarkably cool in 100degF conditions-- better, in fact, than the more open helmets I've used. At the same time, it's quiet-- no real wind noise at all, which probably also means the product claims about aerodynamics are real. It's pretty quickly surpassed the Kask Protone as my favorite-- and if you need to stow your eyewear, the Vento's grippers also put the Protone to shame. I highly recommend the Vento for anyone looking for a high performance road helmet that checks a lot of boxes in the positives column, while ignoring the negatives column. If none of this blather helps you, just figure that if the Vento is good enough for Jumbo Visma, it's probably good enough for your club ride!
Thank you for your feedback.
MSRP: $49.99
Total Savings:
$25.00 (50%)
MSRP: $109.99
Total Savings:
$60.00 (54%)