Lazer
Cycling Enthusiast
Denver, CO
1 of 1 customers found this review helpful.
Great fitting and good looking
I replaced my old Giro Aeon with this. The Lazer fits well and the retention mechanism seems way better and sturdier. Ventilation is very good. Catch it on sale it is a really good value for a high end helmet.
If you are between sizes, I would size DOWN. The size chart recommends sizing up. In my case I ordered Large and it was way too big. I exchanged for Medium and it's great. Fortunately, this item qualifies for easy and free return shipping on exchanges. Awesome policy, Bike Tires Direct!
Thank you for your feedback.
Cycling Enthusiast
Marin Co. CA
Great helmet, sizing seems off
I have had this helmet now for about 2 months. I like it very much, it is light and well ventilated as advertised. The only negative is the sizing. I measured my head circumference about 6 times, and came within a few millimeters of 59 cm each time. Given that, I ordered a L, (58-61 cm). It is way to big, and I should have ordered a medium (not available at the time, as wasn't the M/L), as it projects about 2" (5cm) behind my actual head. . Fortunately, the Rollsys fit system snugs it down fine. Must look a bit weird to my riding buddies, but it works ok.
Thank you for your feedback.
Cycling Enthusiast
Boston area
Looks and feels good, light weight and good ventilation
Just returned from a bike trip to N. Cascades in Washington. Wore this helmet in high heat 90s for 40-50miles a day. It goes on/off easy, is light weight, and the spin wheel on top of helmet rather than rear is quite nice. I wear a ponytail and no problem with fit. One caveat: i measure at 55cm so ordered a medium (which starts at 55cm). This was way too large, could not tighten it enough and had to exchange for a small which is perfect. I think if you have a very round head the bigger size might be needed but my head is more oval. P.S. exchange was super easy, no need to fill any paperwork, quick email and they sent me a fed ex label. Very pleased with this company.
Thank you for your feedback.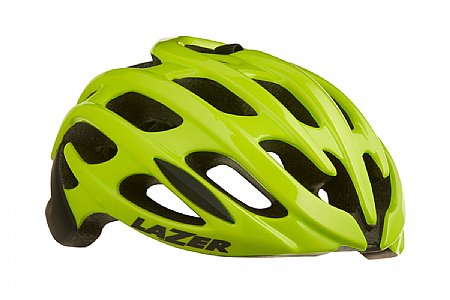 Cycling Enthusiast
Houston, tx
Near perfect helmet - highly protective and a great value
Upgraded my 5 or 6 year old Specialized helmet. The Lazer Blade +Mips fits great, is great looking, and is very comfortable. I love the adjustment knob on the top. It is rated very highly for safety by Virginia Tech. Minor deduct because it does not hold my sunglasses very well, but that's not the reason I purchased the helmet.
Thank you for your feedback.