Hammer Nutrition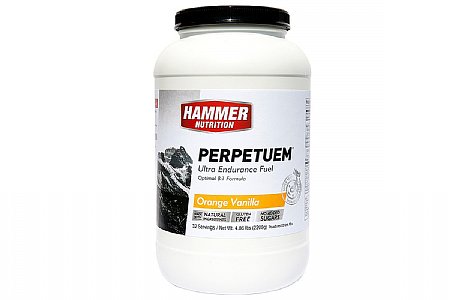 Cycling Enthusiast
SE Texas
Nice preride mix
I mix one scoop and put in a small glass of water to drink just before heading out on my road bike for a 2+ hour ride. I first make a paste with a very small amount of water, then add about four more ounces of water and stir. I don't like making a solution to use on rides because of the difficulty of cleaning the container. It just doesn't dissolve all the way and it leaves a residue. But the solution helps give me good energy for my rides. The 32 servings become 64 servings (or rides) for me.
Thank you for your feedback.
Cycling Enthusiast
Central Tx
1 of 1 customers found this review helpful.
Easy to use, indispensible race tool
This thing is inexpensive, it serves its purpose and is something I never leave behind on long ride days.
I first thought that it was going to be gimmicky, but after a few rides, I don�t know how I got along without it. Yes, it does not work very well if you use 5 gel packs to fill it, but reading online I found the trick is to cut the gels with additional fluid, I use coconut water, at most a 2:3 ratio of coconut water:gel, otherwise its a little too watery for my tastes. The people in my local riding group all asked about it, �wow! thats soo much easier than fighting packs on the road, having to precut things. Not going to miss keeping open/used gel packs in my pockets� etc. Simply put this product is cheap, easily cleaned in the dishwasher (upper rack), has never leaked on me and provides what I need, when I need it. Even if you try it and its not quite to your liking, it is a very small investment and it may just make your rides, that much easier.
Thank you for your feedback.
Pleasantly Surprised With the Results!
I purchased this product to see if it would help with recovery. I've taken it daily for 2 months now. I can't determine that it helps my recovery but can say that it has greatly helped my chronic low back pain. I've compared the levels of CBD and residual THC in this product with other similar products and the price. Hammer's product gets the results, lab report show 0.00% THC and has the best CBD/$ of the products I researched. I'm very happy with it and will continue to take it regularly.
Thank you for your feedback.
Hammer Gel has been great for years.
I have used these for years. My better half uses them when she runs too. We both tried the newer thinner gels that are getting popular right now and both came to the same conclusion. The others work okay but you crash hard with them so you better be ready to keep pumping them in once you start. The Hammer Gel's have no sugar so we don't seam to crash after taking one. It will just get used up and you can take another or just ride on in tired. When the other thin ones we tried gets used up you better take another one or it isn't going to be fun getting home. If I am 8-10 miles from home I hate to burn a Gel just to get home on a solo ride, with Hammer I don't have to.
Thank you for your feedback.