Challenge
Competitive Racer
Lake Tahoe, CA
10 of 10 customers found this review helpful.
Road feel unmatched
Seriously awesome tires.
After 3000 mi I can confidently say these are among the best tires I have used. I have tried just about every brand out there and the road feel of these is beyond anything else. I am running the 27mm version tubeless. They are difficult to mount and required 2 levers but such is the case with many tubeless tires. Mounting was about on par with conti.
I also raced these tires on quite long rough gravel sections and abyssmal pavement at an unforgiving pace and they held up flawlessly. I have many long technical descents where I live and they have loads of cornering stability and grip and performed well in the wet, although I'll admit this is an area I am not fond of testing where the limits are.
Overall I can confidently say they are worth a shot if you are on the fence about these. I bought 3 pairs as backup and don't plan on switching any time soon. Plus the tan walls look badass on my bike.
Thank you for your feedback.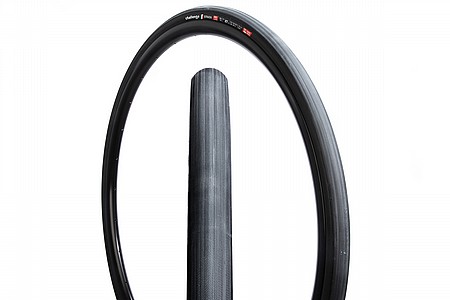 Cycling Enthusiast
Seattle
Vastly imrpoved on a great tire.
Longtime fan of open-tubular type tires, back with the old Vittoria Open Corsas and Torelli's offerings. What they lack in rubber compound technology from the big guys, they more than make up for in grippiness from the soft casing. In terms of ride feel, they're well a step above premium tires like the Conti GPs or Michelin Pros.
First time riding Challenge tires but very familiar with the manufacturer from the 'cross world. They ride just like the old Open Corsas�soft and cushy for their size, and feel well planted in corners. I don't anticipate them to last as long as conventional clinchers, but expect to get a summer out of them. Already put 100 miles in, riding through urban and industrial streets with nary a puncture. You can get away with a slightly lower pressure with these, and that helps with avoiding flats. You're not going to snake-bite unless you ride sort of recklessly or go extremely low.
I purchased 25s with the anticipation that, like most open tubulars, they'll grow a little bit once worn in. They measured 24mm when I first mounted them and now measure 26mm. Running them at 85psi.
I'll also admit that I read many of the poor reviews from circa 2016 involving catastrophic blowoffs with this tire at higher pressures, and was very nervous on the first ride. First, it seems the common denominator is running very wide (like 25c) rims or carbon rims with non-standard hooks. Challenge has updated their compatibility chart, and my 18c alloy rims are within the suggested range. Second, Challenge appears to have added a vulcanized reinforcement along the bead that aids in tire retention. The bead is a bit beefier than before, search for recent images of the folded tires from other sites and you'll see a black strip on the outer edges. So far I've had no problems. Mounting the tire wasn't as much as an ordeal as I remember with past open tubulars.
Highly recommend this tire, or better yet, if you have the clearance, the Paris-Roubaix or Strada Bianca. Same tire but wider. Best $xxx you'll spend on your bike. Comfort=Speed.
Thank you for your feedback.
1 of 2 customers found this review helpful.
Fast Rolling with Tread
These are pretty fast rolling tires and pretty light. I like them better than my Gravel Kings because they roll just as fast and don't throw pebbles at my fellow riders. They have a yellow sidewall, not tan if that matters to you. My 38mm version expands to 40 mm wide on my 25 mm internal rims. They require a no ammonia sealant apparently so just to be safe, I bought Challenge brand sealant instead of my normal sealant. Would give 5 stars if I could use my regular sealant. Maybe I can, but I don't want to experiment with these relatively expensive tires.
Thank you for your feedback.
Cycling Enthusiast
Memphis
Good looking and Fast but Cut prone!
Bought these from Bike Tires Direct less than a year ago for a weekly trainer and occasional gravel ride entry. Very difficult to mount (pinched one tube on my first tire and took the second one to LBS to mount). Easier to re-mount after time on the rim. Fairly fast and comfortable tire with decent grip. Rolling resistance decline is noticeable compared to road tires they replaced. Biggest complaint is I got a flat on mile 11 and gash on mile 18 at recent gravel ride and DNF. The sidewalls have no puncture protection and are susceptible to rock cuts. I bought a replacement to give them one more shot but may have to try something different before entering another gravel race. I have only put around 500 miles on these and they have cost me several tubes and one tire already - expected more for what I paid!
Thank you for your feedback.