Challenge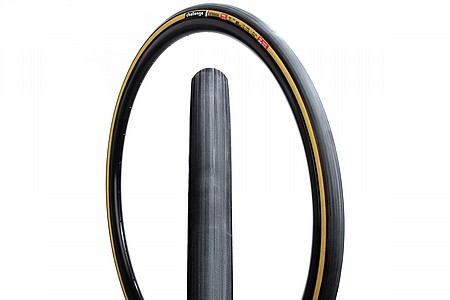 Cycling Enthusiast
Collegeville Pa
Use Challenge tire mounting tool!
Once mounted, and yes, they're a real "B" to mount. After studying various Youtube video's, one guy said
use the Challenge tire mounting tool together with two Schwalbe tire levers, the blue levers with the clip to attach to the rim. IT WORKED!!! I even mounted the Conti 5000's which are also tough to mount on another bike! Also, soap the rim and inside of the tire to help mount the tire! That helped tremendously! I inflated them with a tubeless ready pump. You'll need 180 psi to inflate these sob's!
Thank you for your feedback.
Competitive Racer
Bay Area
Great tire for gravel AND cx
I'm not sure I'd believe the reviews that give this tire 1 star. Although these are on the more tricky side of mounting, it's definitely doable and actually easy once you get the technique down. It took about an hr for the first tire to work out the method. Then 15 mins to mount the other.
First, I'd watch this installation video by Challenge Tires https://youtu.be/1N9a1tqYky4 . Next, I'd pick up some tire bead wax (Shindy Tire Bead Wax).
The key is Japanese tire bead wax. You wax one bead and slide it over the rim so the whole tire is over top the rim and centered. Don't push any beads into the rim just yet. Then wax the other bead.
Now you can mount one bead making sure you're going into that center channel. Get as far as you can go using your body weight to stretch the bead as much as possible. Don't work too hard though. Once you can go any farther strap an old pedal strap to one side right where the bead is entering the rim. Basically you're trying to pinch that side so it doesn't move. Get the strap really tight but also make sure the metal parts of it aren't digging into the rim. Then you can work on the other side of the rim w a tire lever. If the other side migrates refit the strap so it pinches the bead so it can't move. Repeat on the other side.
Rode these at a not-muddy but also not-dry cx race and they performed excellent. Great traction despite small knobs. I ran them at 18 psi (138 lbs bike+body) which lower than the recommended pressure of 25-45 psi. No squirm. The rear rim kissed the ground a couple times with no issues. Great all-round tire that I'll be keeping on for the winter.
Thank you for your feedback.
Competitive Racer
Southern California
3 of 3 customers found this review helpful.
Not for hookless rims
Hard to review these tires as they looked just the ticket for me, I was looking for a light, fast hard pack tire. Unfortunately I was about to mount them and on the sidewall in barely visible writing it says not for hookless rims. As I have hookless rims I had to return them. This was not stated on the website description or anywhere I could see. Why manufacturers hide this kind of information is beyond me, continental were the same with their road tires for a while too. Disappointing. Buyer beware.
Thank you for your feedback.
Very nice tires
Conditions in the Marin headlands are dry dry dry these days. Fire roads are definitely hard pack. This supple tire is definitely helping to soften the blows. Low profile tread requires rider attention on downslopes but�shouldn�t that always be the case??
Definitely worth it.
One note about install: tight fit for sure. Patience and technique will reward and once on no issues with seating.
Thank you for your feedback.