Apidura
Waterproof, nifty features
Very impressed with this bag. Replaced two smaller bags and a tool can that was occupying a bottle cage.
Pros:
-waterproofing has been flawless thru hours of rain, mud, and being rinsed with the hose.
-bright lining and interior zipped pocket
-holds tons of stuff
-small size fits a small (52cm) frame. Sounds weird to say, but I've tied a bunch of small bags and this is the first one that works.
-frame attachments are good
-zippers work, easy to open with gloves
Areas for improvement:
-would be nice to have some hook&loop straps sewn inside the bigger pocket to help organize tools & spares. Or some elastic loops for air & whatnot
-wish there were some other colorways
-smaller frames will have trouble clearing the water bottle on the downtube, but I'm my case, the 12oz bottle I have tucks up under the bag and acts like a cover to keep mud off the nozzle. I might try to reposition the bottle cage with a wolftooth components bottle relocation kit, but it's working ok as is.
Thank you for your feedback.
Cycling Enthusiast
SF Bay Area, CA
1 of 1 customers found this review helpful.
Very nice 7L bag for road rides.
I use this bag on a Surly Midnight Special for my road rides.
The bag is 7L, just big enough for a tool kit, spare tube, lightweight jacket or vest, spare glasses, gloves.
If you carry a lot of gear, its not going to be big enough; but for my day rides its perfectly sized.
It has a nice automatic one-way valve so its easy to squeeze the air of it.
The bag has some high visibility yellow strips and you can mount a taillight on it as well.
I have had this bag on the bike for about 2 months and I like it very much.
I also have an Apidura frame bag on another bike...they make a quality product IMHO.
Thank you for your feedback.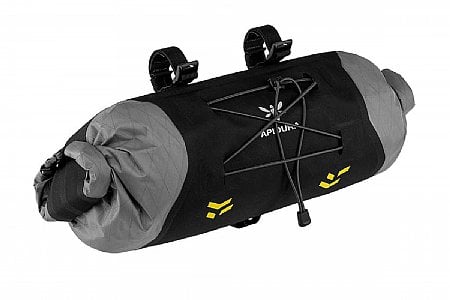 Cycling Enthusiast
Minnesota
3 of 3 customers found this review helpful.
Nice bag, much preferred over a top tube back
I have tried top tube bags on a number of occasions for snacks and incidentals. I wind up hating them because as soon as I stand up to pedal, they wind up interfering with my legs. This bag holds more and has never gotten in the way. It's also quite aero tucked back behind the head tube.
I have the 2.4 liter version and in here I can keep several snacks, an Ottolock, and a Pearl Izumi rain jacket. There is also room for a small battery and a cable to go to a light or to charge my bike computer.
It's also very light and highly waterproof.
Thank you for your feedback.