Apidura
Terrific product and service
Frame pack performed seamlessly. Zippers opened and closed without a hitch. Waterproof pouch was in fact
waterproof. I usually don't use a top tube pack but on this two week bike trip it was near perfect.
I say near perfect. What would have made it perfect was the next size up. During the trip I learned what a wonderful addition this pack made.
If you're looking for additional storage on the bike, consider this product. Additionally, this is a great vendor.
Thank you for your feedback.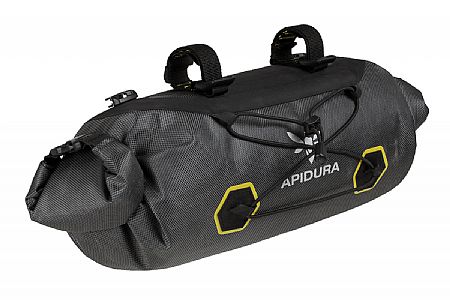 Excellent addition to the arsenal
Big fan of Apidura bags, as I already have one of their frame bags and a saddle pack as well as well. Needed a bit more storage for a multi-day road biking bike-packing adventure than those two bags alone could offer, so sprung for this handlebar bag. High quality, straps down nice and snug, fit between the drops just fine and I particularly liked using the bungee on top to strap down a few things I needed often but sometimes liked to stow, such as my long fingered gloves. I went with the 9L bag as I was concerned the larger one may not quite fit comfortably between handlebars, and glad I did, this one works a treat! Would highly recommend this to a friend or anyone asking.
Thank you for your feedback.
Waterproof, nifty features
Very impressed with this bag. Replaced two smaller bags and a tool can that was occupying a bottle cage.
Pros:
-waterproofing has been flawless thru hours of rain, mud, and being rinsed with the hose.
-bright lining and interior zipped pocket
-holds tons of stuff
-small size fits a small (52cm) frame. Sounds weird to say, but I've tied a bunch of small bags and this is the first one that works.
-frame attachments are good
-zippers work, easy to open with gloves
Areas for improvement:
-would be nice to have some hook&loop straps sewn inside the bigger pocket to help organize tools & spares. Or some elastic loops for air & whatnot
-wish there were some other colorways
-smaller frames will have trouble clearing the water bottle on the downtube, but I'm my case, the 12oz bottle I have tucks up under the bag and acts like a cover to keep mud off the nozzle. I might try to reposition the bottle cage with a wolftooth components bottle relocation kit, but it's working ok as is.
Thank you for your feedback.