Apidura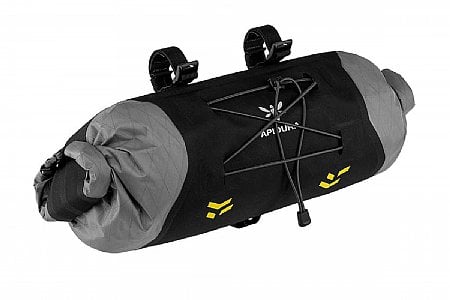 Cycling Enthusiast
Minnesota
2 of 2 customers found this review helpful.
Nice bag, much preferred over a top tube back
I have tried top tube bags on a number of occasions for snacks and incidentals. I wind up hating them because as soon as I stand up to pedal, they wind up interfering with my legs. This bag holds more and has never gotten in the way. It's also quite aero tucked back behind the head tube.
I have the 2.4 liter version and in here I can keep several snacks, an Ottolock, and a Pearl Izumi rain jacket. There is also room for a small battery and a cable to go to a light or to charge my bike computer.
It's also very light and highly waterproof.
Thank you for your feedback.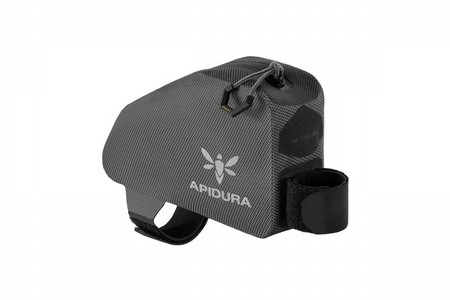 Cycling Enthusiast
Chicago, IL
3 of 3 customers found this review helpful.
Big enough for a charging brick and some Clif bars
The 1L version is comfortably large enough for food and a charger. The charging cable can be routed through a small gap in the front of the bag, or directly through the zipper (there's a small gap near the front for a cable to fit through). I found the bag sits too close to the stem of the bike to use the gap and routed my cable through the zipper instead.
The bag was waterproof enough to survive some pouring rain and the contents inside were only damp, but definitely more wet than they would be in a dry bag. The zipper is not sealed by any means so I wouldn't rely on it keeping rain out.
Thank you for your feedback.
Cycling Enthusiast
Spokane, WA
1 of 1 customers found this review helpful.
Lose the zipper flap please!
Apidura makes a lot of nice stuff, I have their racing handlebar bag and love it! This frame bag has the same excellent quality of craftsmanship with just one serious design flaw! The zipper flap! The bag already has welded waterproof zippers, the flap is redundant! The issue is that the flaps tend to fold out, like the edge of a wing, and your inner thigh catches that edge on every pedal stroke! NOPE! Instant deal breaker!
I suppose that if you kept the bag tightly packed, and only fit it into a frame that is an inch or so longer than the bag it might stay pulled tight enough to keep the flaps tucked in. I used Apidura's frame bag sizing tool on their website and purchased exactly the size that was recommended for my bike. Maybe size down if you want to try it.
I did find a frame bag that worked well, so I don't think I'm being too picky. My knees do like to come close to the top tube as I ride and I can adjust a bit based on how stuffed my bag is, but catching the hard edge of the zipper cover flap on the Apidura every pedal stroke was far too irritating for me. Your mileage may vary!
Thank you for your feedback.