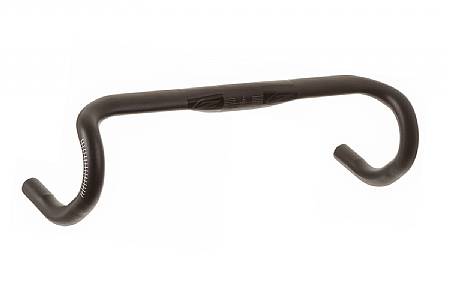 Ultimate Road Racing Bar
-amazing value
-looks great
-fairly light
-lots of hand options
-deep drops
-flat top for long ride comfort
I think this might be one of the best drop bars for racing i have seen. The deeper drop allows for a nice position when the race gets serious, the longer extensions in the drops allow for more hand options and greater comfort. For sprinting this is just exceptional. I have been trying several bars for a long time and i will always use this bar.
Thank you for your feedback.
Cycling Enthusiast
Portland, OR
One of the best aluminum bars out there
For those in need of a short reach but like to run a longer stem, this is your ticket.
Very smooth natural movements between tops, hoods and drops/hooks.
Plenty stiff, good road feel. Obviously your handlebar tape will vary on the road buzz.
The ergo section does add some weight but in turn when riding on the tops, your hands feel so at ease.
Went beyond black with beyond black stem, the blacked out gloss is fricking sweet.
Mounting tip:
Make sure when mounting your hoods, the aero section is to your liking. There is some room for adjustment on the bars once mounted but unlike round handlebars, you cannot turn the bars up or down a lot (LOT) without the aero section affecting your hands.
Only feature request would be for cable management thru the bars. If there was a cable path or some holes, that would eliminate feeling the cable.
Thank you for your feedback.