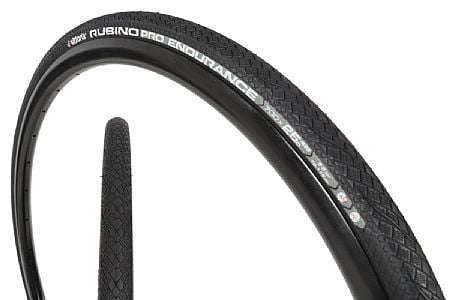 Daily Commuter
Portland, OR
2 of 4 customers found this review helpful.
Good handling. Great value but a bit on the rough side.
Initial ride review of the Vittoria Rubino Pro Endurance G tire.
I just took off my new Michelin Pro4 Endurance tires to put these on so I'm comparing 2 fresh tire sets. My first impression was that the Rubino Endurance was a pain to put on. I had to check the box that I didn't get the tubeless tires. It finally took 2 people to mount these with multiple levers. I am not looking forward to fixing a flat on the road with this tire.
It rolls well. It handles well. It is fantastic at braking but the ride is a bit rough. I typically pump my tires to 100 PSI, so maybe easing off a bit to 90 PSI will improve the ride? Rolling resistance feels good. This does not feel like a heavy sluggish tire and compares to the Pro4 and GP 4000 II s in performance but those tires are a lot smoother.
I'm not a fan of the tread however. Road bicycle tires don't need tread as they don't hydroplane. In fact the Pro4 is entirely smooth. Tread picks up debris and also sprays more in wet weather riding. Tread is also harder to clean off in case you just rode through some glass. This tire could do without tread.
However, if it lives up to the puncture protection advertised and wears as well as the Conti GP 4000 II s, then at this price I could see myself getting these tires again.
Thank you for your feedback.
Cycling Enthusiast
Salem, OR
1 of 2 customers found this review helpful.
bombproof openclincher tire for multiple surfaces and roadweather conditions
Fantastic all-conditions tire for rough roads, poor weather and a good commuting, foul-weather training or shoulder-season openclincher tire.
Tough to mount (stiff) but goes on solid.
Good tread without too much and feels smooth and solid on pavement, pave', and gravel alike.
Have put this through some horrendous weather and awful road conditions and puts up with tremendous abuse and puncture resistance.
Thank you for your feedback.
steep mountain roads of Salt Lake City, UT
Great set of winter tires, Bullet Proof.
If youre looking for a tire that you can have 100% confidence in when the weather and riding conditions are at their worst, then buy these tires. These things are bullet proof, they standup to crap on the shoulder of the road -the gravel, glass, debris pile on every corner. Grippy even in the cold. Not the fastest Tire out there, but youll save the time because these things wont get a puncture like some of those thin summerrace tires.
Thank you for your feedback.