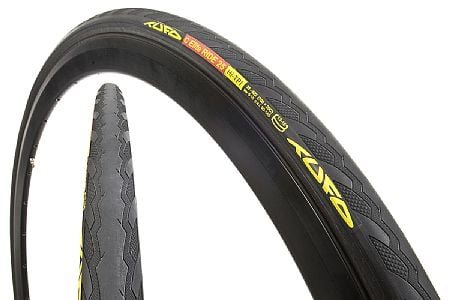 Cycling Enthusiast
Colorado & Arizona
1 of 2 customers found this review helpful.
Awesome Solution
Having ridden tubulars for a really long time I have been in that very familiar mind-battle between staying with tubulars or going clincher. From a pure nostalgia and romance perspective as well as the ride quality hands down tubulars every time. Plus, easy to change on the road. Clinchers probably more practical but just didn't have the wow factor.
That all changed with the tubular clincher concept. I think that solves the dilemma for me and my next build will be shod with these babies. Thanks for everyone's input
Thank you for your feedback.
Cycling Enthusiast
Yorba Linda , CA
1 of 1 customers found this review helpful.
Great tires although not the lightest
I really like the way these tires ride. the transition when leaning is very smooth, much like a standard sew-up. When I get on my older bike, running standard clinchers I have to be a bit cautious at first because they tend to dive in while starting the lean. In general they are pretty good with flat protection because of the high density weave and of course the flat fix inside. Two drawbacks that I feel are worth it for the ride, but not everyone will. First if you do get a flat that is too big for the flat fix, you better like walking. unlike common tubeless clinchers, you cant just boot the tire and insert a tube. The second is they aren't the lightest rubber around, noticeable when sprinting from lights. For me the ride is worth it though, smooth, supple, well controlled turning. I guess I should have said 3 drawbacks, when not on sale they are pricey. I wish the made the tubular clincher cross tires were still available, Love tubulars but hate the work to install and at least with these I could drop into any shop if I hade to and grab a cheap clincher if I had to and be out in minutes.
Thank you for your feedback.
Cycling Enthusiast
South Texas
4 of 4 customers found this review helpful.
Excellent, durable tirel...the best I have ever ridden.
I have used this tire for two seasons now. I never experienced a flat last season, and I ride about 3000 miles. Then I put on a new set to ride a century in the Texas hill country. At 63 miles out, while in a tight group at about 25 mph, the cyclist in front of me experienced a front tire blowout and abruptly stopped. I was glancing over my right shoulder at the time and by the time I realized what he was doing I crashed into his rear cogset just inside his rear derailleur. The spinning cogset cut into the sidewall of this tire rendering me flat. Wo a spare tire, and no SAG in sight, I hobbled in to the next rest stop, 7 miles, on a front flat tire. The tire was not visibly damaged, nor did my wheel suffer any damage. The mechanic who changed my tire could not believe I had ridden this tire, flat for seven miles. I do not think I could have done this on a regular tubed tire. This is one tough tire. I will put them on all my bikes. Highly recommended and, in a pinch will get you to help or home.
Thank you for your feedback.
Cycling Enthusiast
toledo, ohio
1 of 1 customers found this review helpful.
Will never go back to standard clinchers.
As per the headline. Am using the Elite ride 25. Can't fault this tire in any way except it cost a bit much. Then again, ya gets whats ya pay for. Flats seem to be a thing of the past. Ease, convenience, and speed of mounting are far above any other tire. No pinch flats. No worry's above rim burrs cutting tubes. No need for rim tape. I could go on and on but for me this is the best thing to happen to tires. I even use Tufo tubulars and they are easier to mount than other tubulars.
Thank you for your feedback.
Cycling Enthusiast
Dallas, TX
3 of 3 customers found this review helpful.
An excellent alternative to full blown tubulars
I've been riding these tires for about two months. Switched from Mavic clinchers. I wanted to re-live the experience of riding tubulars. Without the hassle of buying new wheels. And gluing. So far, these tires have lived up to my expectations. You do need to ride these tires at the recommended pressure of 120psi or above. They really seem to come alive and responsive! Good quality tubulars are also ridden at this pressure.
As to flats, haven't had any yet. But that will happen at some time. They always do. Have bought the Tufo sealant. So hopefully, that will plug the hole. And get me home.
Thank you for your feedback.
5 of 5 customers found this review helpful.
loved the Vittoria open Corsa's but...
Having ridden the Vittora CX II for the past year and loving them, but always feeling like a blow out at 40 is going to kill me I hesitantly decided to try these tires. Lots of old reviews of different Tufo's are mostly negative but I wanted to give them a shot. So, fitting these tires does take a little bit of thought and once you get the concept down it is the easiest install of any tire. 20 minutes first wheel, 5 the next. So not having to worry about pinching a tube during install is a MAJOR plus, not using rim tape another, the only negative, I have 56mm deep carbon wheels so needed to add value extenders if you want to call it one.
I thought I was never going to have a better ride then my vittoria's but was I wrong. I am sure the 25mm makes a big difference but these feel softer than the 320 TPI Vitts. Between the 210 TPI and the use of SILANE VP Si 363 they roll unbelievably fast, I gained speed going down the same hills with less effort than I would have ever imagined. Bumps gone, jarring seat of the pants vibrations on broken pavement gone, cruising flats in a headwind faster than I ever have before, you bet. These roll so smooth and fast I wouldn't have believed they were faster, but my Strava times don't lie. So far very happy, I now carry a tube of stans and CO2 for road emergencies if needed, but so far no flats or anything close. So far, very very pleased...I will give a followup once I reach 1k if anything has changed.
Thank you for your feedback.
Cycling Enthusiast
Chicagoland
4 of 5 customers found this review helpful.
One durable tire
I bought my first set on a whim to see if these tires really are as good as other reviewers and the mfg claimed. It took me some time to figure out the installation but after viewing the youtube video it was easy to get them mounted on my rims. I have about 2500 miles on them and just rotated them. I have just the beginnings of wear on the rear and the front looks new. I weigh in at 195 - 200 lbs and usually go through tires pretty quick. I started to use these for my training rides saving my tubulars for event rides but now I pick these more often than the tubulars due to ride quality. I rode these last summer in the Rockey Mountains with some wicked descents and a few gravel road stretches - they performed perfectly. I added Stan's sealant at install and have not flatted since initial installation so I have no data on what happens in a flat situation (do they stay on the rim???? - I sure hope so!!). So only 4 stars? well I'll update this after I find out how long they last.
Thank you for your feedback.
Cycling Enthusiast
Prescott, Az
Cycling Enthusiast
Victoria BC
3 of 7 customers found this review helpful.
Does not fit my rims
I could not get these tires properly seated despite struggling with them for several hours. It was still possible to roll the tire off with fingers in several places. Finally I got one on and it seemed seceurely fixed, but on the road there was a bump-bump-bump indicating a less than perfect fit. The Tufo installation video makes it look easy. That was not the case for me at all. I tried two different sets of rims. Maybe other people would be more successful, but I don't think installation should be so difficult for anyone.
It seems like a good idea, and that is why I tried them (I miss the feel of tubulars). Perhaps if they made the tires slightly bigger in diameter and reduced the width between the beads they could be seated.
Thank you for your feedback.
Cycling Enthusiast
San Francisco
11 of 11 customers found this review helpful.
Excellent alternative to Tubular Tires
These 25c tubular clincher tires are really good tires. without going into the whole clincher tubular debate, these tires have a super ride quality with amazing grip and stability. they role fast with their high psi, and corner with the best tubulars out there. I like to push a tire hard in corners, and these respond with great grip and predictable stability. The clinchertubular idea just works! As for the whole i only got one flat thing ... that depends on where you ride, your luck, the tire, and in my case - what you put in it. The tires have removable valve stems, so I added 50 ml of Stan's Notube juice, and i haven't had a flat ever after using up 3 pairs over 2 years. I ride these tires down to the casing and then ride a bit more without a problem. They are definitely performance oriented tires, but the rear lasts about 3000 on my fixed gear (with rear and front brakes) riding about 100 - 120 miles per week both commute and training and am 6 ft at 200 lbs. I recommend saving up and buying a set to try out. BTD ships free and fast ... thanks.
Thank you for your feedback.
Cycling Enthusiast
Baltimore MD
18 of 19 customers found this review helpful.
Best clincher tires I''ve ever ridden
I've ridden on Tufo C Elite tubular clinchers for five years now and I'd never think of using another tire.
I have a 25mm on my rear and a 23mm on my front of my Lynskey Performance Designs Ti road bike and these tires have the best combination of handling, stability and comfort I've ever found in a clincher tire. I rode true tubulars for many years before giving up about a decade ago but I always missed the ride characteristics of sew-ups. These Tufos are so close to the real thing, that I'd be hard pressed to tell the difference.
While these tires aren't cheap, one has to remember that you don't need to purchase tubes, rim strips or glue. On average, I might lose one a season due to punctures and I ride approximately 2000 miles a year. Hence, I guess I get about 4000 miles out of these tires on average. I always the Tufo tire sealant and it seems to work quite well. When I have punctured, I've always been able to ride home with about 40 psi in the blown tire.
All in all, I find these tires to be excellent and as I said above, I'd never dream of riding anything else. I wonder why other manufacturers haven't picked up on and started selling tubular clinchers of their own but until they do, Tufo has at least one extremely satisfied & loyal customer.
Thank you for your feedback.
Nice, but
I bought three of these tires three months ago. At first, I thought they were brilliant, a softer, faster ride. Then the weather changed, and I discovered that these tires had virtually no protection against the fall weather of Portland. 4 flats in two months. Now the two tires I ran on back are utterly unusable, even Tufo Extreme sealant won't stop up the holes. I bought them on sale for $XX each, so now that's $XXX lost ins couple of months.
The regular sealant will get you home, but the extreme won't patch the holes that you get on the road, they're just totally cut up and a total loss. The Michelin Ions that I had before were so much more dependable, and way cheaper.
Thank you for your feedback.
Cycling Enthusiast
Boulder, CO
3 of 3 customers found this review helpful.
What don't they get?
Best tire in world. Supple, fast ride. Durable tire. Easy to put and take off. I get 1,500 - 2,000 per tire. Just load 'em up with sealant, mount 'em, and ride. Drop the rim strips, patch kit, tire irons, spare tubes. I only carry a spare tire with CO2, which weighs about same or less that aforementioned crap. As long as you know how to perform a tire sweep you'll be fine. Take these on pavement and dirt roads with no worries. IMO, using tubes or going tubeless is just plain stupid. Wouldn't ride anything else. And, never will.
Thank you for your feedback.