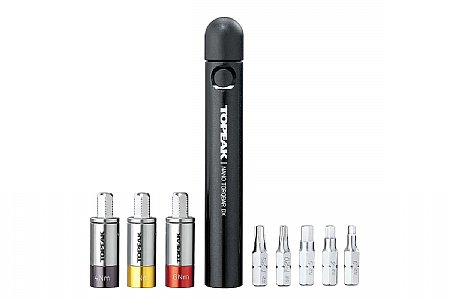 1 of 1 customers found this review helpful.
Perfect for carrying during a ride
You need a torque wrench for carbon parts on the bike and need to fine tune your handlebar, seatpost and Saddle on rides. This is the one. Perfect size and works great to take with you
Thank you for your feedback.
Cycling Enthusiast
Palo Alto, CA
1 of 1 customers found this review helpful.
Small portable torque wrench, but not best design
The torque wrench works fine with the hex bits, but with the Torx hex bits, the head sometimes comes off when tightening. I have had it slip several times trying to tighten Torx screws for on the handlebar stems. So you have to apply pressure at the head, while twisting the handle with other hand. I am afraid that after a while, I may strip the Torx bolt head. Also when you reach the correct torque, it doesn't give a solid click and feel like other torque wrenches (e.g. Ritchey), but rather you hear faint clicking. Also you are not supposed to loosen the bolts with the torque attachment (which voids warranty). I used it in my travels with a Ritchey Breakaway bike and it performed OK, other than the issues mentioned above. But I think I would rather prefer to have a T-shaped tool with the bit holder in the middle.
Thank you for your feedback.