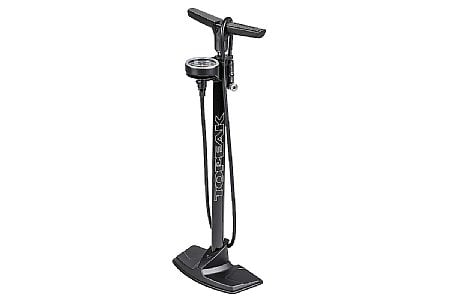 Casual Cyclist
San Diego, CA
So far, so good. Solid pump and better than its predecessor.
I purchased this pump as a replacement for a 9 yr old Topeak JoeBlow Pro Floor Bike Pump. The previous pump developed an irreparable leak from the air release button near the gauge on the pump. I have replaced the O-ring inside the old pump and the rubber gasket that contacts the inner tube valve twice over the last 9 years. The new pump has three upgrades of interest First, the air release button is on the hose, not the pump. If it fails, I'm hoping I can replace the hose and not the entire pump. Second, the gauge is substantially larger and easier to read. Most helpful for an aging cyclist. Third, the hose is longer and, unlike its predecessor, will reach from the floor to a bike on a stand. I've only had it a month, but it appears to be better made that the previous model. The head easily locks on to a presta valve and (so far) does not leak. I have not used it on a schrader valve.
Thank you for your feedback.
Topeak pro x pump
It says in the sales info that the pump head with work with either Schrader, presta, or Dunlop valves. That is not true, you need to use an adapter to use this pump on a presta
Valve. Very cumbersome to use the adapter. Never would have bought this model if this was spelled out. Great pump, but not for s presta valve. Very disappointing.
Thank you for your feedback.