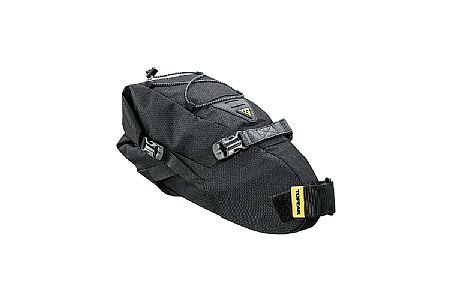 1 of 2 customers found this review helpful.
Double good idea
I'm not using this for bikepacking but everyday use. The cool thing about it is it has an inner waterproof liner that goes inside the outer bag. I put smaller items and tools in the outer bag first and then I can fit my inclement weather jacket and pants or gloves in the inner waterproof liner, and still have room for what I pick up at the store. Since you can compress the inner liner down as small as you need so you get kind of a three-layer loading system that works okay. There is also extra tie on space on top of the bag as well as an area to clip a tail light on.
The buckles and clips have a flip up lever so adjusting straps is really easy to do and quick.
As I look over the bags that I have had over the years that I still have and use are made by topeak. The quality of this bag seems on par or better than anything I've had from them and I expect this bag to last just as long.
I considered and handled other bags from other makers of this style of bag, but went with this bag because it was the right size, quality, and reputation that I have built a trust in.
Thank you for your feedback.
5 of 6 customers found this review helpful.
Well built plenty of space but a little sway.
Took it for a 350 mile test ride and it performed great. Plenty of space for a bivy, spare tubes, tools, device charging cables and a battery pack. Also had my armleg warmers and a base layer in it. Used the top netting for a spare tire and a bike lock. Feels very durable and the compression bag works great. The only downside is a bit of sway out of the saddle. Did not affect the bike handling at all.
Thank you for your feedback.