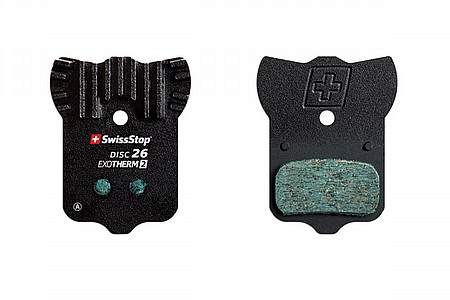 Cycling Enthusiast
Salt Lake City
Smooth and quiet
I bought the Exotherm2 Disc34 as a replacement for my 2nd set of stock Shimano LO3A pads, which were hard to find as they were being replaced with the LO5A. I have 1,500 miles on these pads now and they have preformed really well. I would say they are a step above the OEM. Quiet with strong breaking power and smooth modulation. Riding the mountains there is no fade under long, steep descents. I have only had them in the rain a few times and they performed just as well compared to dry conditions. I'm curious to see how the new LO5A pads will compare, but would definitely keep using the Disc34 pads if available.
Thank you for your feedback.
Cycling Enthusiast
Boston, MA
Excellent performance on a tandem
Installed these front & rear on a Co-motion Tandem with Juin Tech GT 4-cylinder hybrid hydraulic calipers. They were a bit noisy at first, but once bedded in have performed much better compared to the stock pads. Very good stopping power with excellent modulation. No noticeable fade on long descents.
Had an annoying squeal on the rear with the original Aavid rotors. Switched to a Reverse Components AirCon rotor and the problem went away.
Got them on sale for a great deal. But would definitely re-purchase at full price when needed.
Thank you for your feedback.