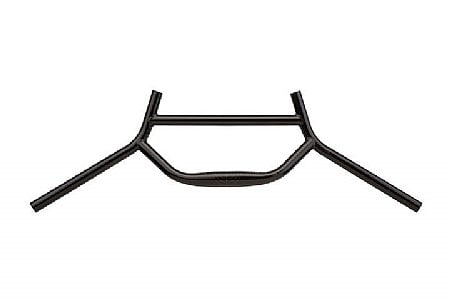 Cycling Enthusiast
NW Washington State
1 of 4 customers found this review helpful.
Best touring bar yet is still not good enough
This bar offers a variety of hand positions and plenty of space for my cupholders and lights, but it's not as awesome as my imagination. I'd like to be able to move from sitting bolt upright with my arms out catching wind like an umbrella as I grab the brakes to a full aero tuck with my arms ahead of me like an arrow and at each stage I'd like my palms facing each other. Palms facing the pavement is asking for carpal tunnel syndrome.
To improve this bar increase the sweep until there's no curve in the outer tubes, then continue them forward until they meet. Until then, this will do.
Thank you for your feedback.
Daily Commuter
CA Bay Area
2 of 2 customers found this review helpful.
Great design!
Just threw these bars on my 26 hardtail commuter bike and I think its a huge improvement. The hoods position is why I really wanted them. Only complaint is that they are super wide, had to cut them down about an inch to find a reasonable riding stance.
Thank you for your feedback.