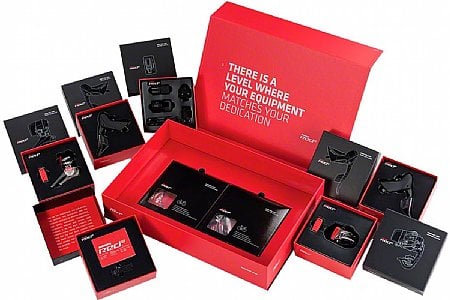 Cycling Enthusiast
Seattle
9 of 10 customers found this review helpful.
Great upgrade
I update my Red 22 to eTap last week. While I love SRAM the 11 speed didn't shift as crisply as the 10 speed on my other bike. I was constantly adjusting the rear derailleur.
With eTap shifting is spot on and the drive train is the quietist of any bike I have rode. Installation was pretty simple and pairing the components did take under a minute as advertised.
I also had no problem adjusting to the new shift pattern. It seemed quite logical to me and I have not had a misshift.
It was also nice that eTap paired to my Garmin 820 with me not having to acquire any additional sensors (unlike Shimano Di2). The summary at the end of the ride tells me the number of shifts on each derailleur. I have also set up a second data screen which shows me my current gear combination (front and rear gear numbers), battery level of my lowest charged battery, and where the chain is on the rear cluster.
Overall I am very happy with my purchase. And yes a friend and I set the system up with out the help of a bike shop.
BikeTiresDirect.com Comments
Happy Birthday! Glad you are happy with it.
Thank you for your feedback.
2 of 2 customers found this review helpful.
Wow! Easy set-up. Intuitive shifting.
Wow! I bought this for a Ritchey Breakaway travel frame, so I don't have to mess with shifter cables. It satisfies that need brilliantly. It's also a breeze to set up. I didn't consider how much time and effort goes into installing and adjusting shifter cables until I set up eTap. But what really blows me away is how easy and intuitive shifting is with eTap. I have another bike with Shimano Di2, and there's no comparison. Yes, Di2 is a little more responsive, but the slight delay with eTap is negligible and not a problem. I love the shape and feel of the brake levers and shifter paddles. I'm docking the value rating one star because of the high price - but to me it's definitely worth it. Perfect for upgrading an older frame. I'm eagerly looking forward to a 1X eTap group for my gravel bike.
Thank you for your feedback.
Cycling Enthusiast
NE Colorado
2 of 2 customers found this review helpful.
Can't imagine going back to cables!
Shifts quick and smooth. I find myself shifting more because it's so easy. I have small hands and was able to dial in the fit so the levers are in good position for me. It's much easier to push a button than to throw the lever to the inside. Also, the front derailleur makes a cool sound.
I liken going to electronic shifting like going from manual crank car windows to power windows. It's not essential and definitely a luxury, but once you've made the switch, you'll not want to go back to the old way.
Thank you for your feedback.
Cycling Enthusiast
SF Bay Area
5 of 5 customers found this review helpful.
Simply amazing
I love this. I put the eTap group on a 2010 Roubaix and it's a whole new world. The shifting is very tidy, and it's so very clean on the bike. No cables or wires! It's looks amazing. It also shaved slightly more than a pound off my bike. The Red eTap cost me more than I wanted to spend, but I lusted for wireless and this was the only option. I'm very happy with it, but ouch in wallet department.
The shifting, especially in the rear, is very crisp. It feels a bit slower than my mechanical Ultegra, but it isn't annoying at all. Being able to adjust it on the fly with a button on the shifter is a delight. I also bought blips, which ROCK.
Thank you for your feedback.
Competitive Racer
West Chester, PA
Great Replacement for my old Campy 10 Speed
I recently purchased this group to replace the 12 year old Campy group set on my Spectrum road bike. I had used this group on my BMC time machine trial bike and really liked it. Installation was pretty easy using the downloaded instruction manual off of SRAM's website and watching a couple of their YouTube videos. I really liked the micro adjustment feature so that you can really dial in the shifting of the rear derailleur. After setting it up I rode in a 30 mile training race the next day and it performed flawlessly. This group is not inexpensive, but the good stuff really is. However, it was considerably less than the equivalent Campy group. If you're looking to stepping up to wireless shifting you won't go wrong with this groupset.
Thank you for your feedback.