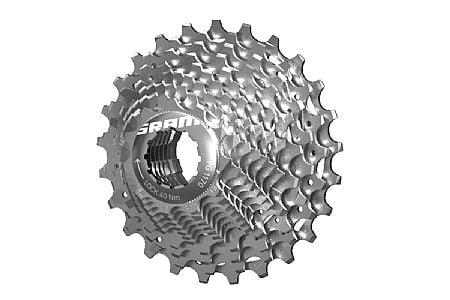 Cycling Enthusiast
Illinois
Best zwift set up!!!
I recently got this for my Tacx Neo for indoor Zwifting this winter. I do about 250 miles a week on Zwift and I really wanted a premium cassette for buttery smooth shifting and this 11-36 Force cassette delivered!!! I got it on a daily special for 65 dollars and went a head and got an 11-32 while I was at it. I did the whole Planet Hoth thing last year but after my insulated water bottles froze solid I knew this year I would spend the cash and stay in my living room. I normally run an 10-42 Sram XX1 1199 MTB cassette on my carbon Giant TCX but after demoing Zwift at the LBS I learned the hills on Zwift were about 70% of real hills!!! this a perfect indoor training cassette and I would recommend it to anyone serious about cycling.
Thank you for your feedback.
Great competition to Campy....
All my bikes have been equipped with Campy, and buying a new bike I was sold to tryout SRAM....
I put 6000 miles on the cassette this summer, and just loved the whole system!!!!
At my age, its better to mouline than push the big gears..... I wish they provided cassette from 13,and up, since I never used 11and12....!!!!
Thank you for your feedback.
Competitive Racer
Southern NH
standard by which to measure others
It's great to be consistent and use SRAM throughout the entire drivetrain. Thus, I purchased this cassette for my cyclocrossgravel grinder bike. No issues, everything works like a charm. I needed the extra gearing for Rasputitsa (ouch). All's well that ends well.
Thank you for your feedback.
Cycling Enthusiast
East Washington
gives me great range of gearing for my 1x sram drivetrain
I live in WA and we do have some longer climbs so I wanted some extra gears as I do more fondo's. This gearing gives me more range to climb with less pressure on my knees than before. I ride sram 1x on the front and this gives me everything I need on the low and high end.
Thank you for your feedback.
Competitive Racer
Houston Tx
Cycling Enthusiast
Schenectady NY
Cycling Enthusiast
Little Rock, AR
Needed just a bit more gear for steep gravel!
I put this on my Gravel Bike (Sram Rival 1X drivetrain) to give me a little more gearing for steep gravel around here. Easy to install and didn't have change my chain either. Bike came with a 32 but the 36 just gives me a bit more help when I need it.
Thank you for your feedback.