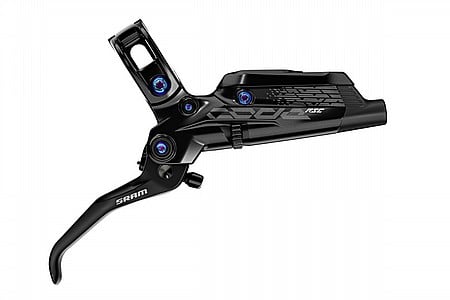 User submitted reviews
Review by Anonymous

Casual Cyclist

NE Portland

A easy upgrade for those with G2 or Guide brakes

I spent the 2022 season struggling on a set of Sram G2 R brakes. After having to end days early from arm pump and replacing pads multiple times in one season I decided my weight and style of riding was more suited to the Code RSC. I wish I would have made the switch earlier! The Code's perform flawlessly and I'm able to ride full days without any fade or hand fatigue.

Thank you for your feedback.
Review by Gnome

Cycling Enthusiast

Central NH

Adjustable power

This is the best Sram mtb brake. I have a good friend who works in a bike shop, and can have any brake he wants. The brakes he wants, and the brakes I want are Code RSCs. I am replacing the Code RS that came on my heavy ebike with RSCs. My ebike has RSC, my enduro bike has RSC, and my downcountry bike has G2. If you plan on going fast downhill, then RSC is the way to go. I very much like the adjustable contact point.

Thank you for your feedback.